China media: No support for Abe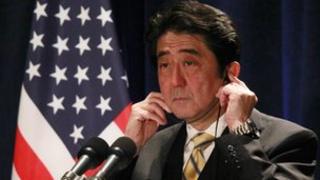 Media in China have welcomed Washington's low-key public stance on the East China Sea territorial dispute during Japanese Prime Minister Shinzo Abe's US visit.
"Abe fails to get full US backing over islands", declares the front page of the China Daily.
After talks with US President Barack Obama on Friday, Mr Abe did not manage to get Washington's clear-cut support for Tokyo's stance over the disputed islands, called Senkaku in Japan and Diaoyu in China, the article adds.
China Daily's Washington correspondent Chen Weihua says that Mr Obama "never once mentioned China" and "did not want to touch on" the islands dispute during a joint press briefing with Mr Abe.
"Washington this time intentionally shunned the issue, refraining from clearly throwing its support behind Tokyo," Mr Chen stresses.
A Global Times bilingual editorial believes that the US's "cautious stance" towards the islands dispute indicates that "containing China" is not a US strategic priority because of Beijing's growing co-operation with Washington.
"Abe really should wake up" after Mr Obama's "silence" on the islands dispute, says the People's Daily Overseas Edition.
It stresses that Japan's economic survival lies with deeper integration with Asia and warns that the US, as "master", will only keep suppressing its "pawn", Japan.
The newspaper says that the Washington Post "accurately interpreted" Mr Abe's alleged remarks on China's need to spar with neighbours over territory. It says Tokyo was just "trying to smooth things over" by insisting that the Post had misquoted Mr Abe last week.
However, Xinhua points out that the Washington Post's "misquotation" of Mr Abe's comments in the interview "have raised the eyebrows of many Chinese".
Xinhua also accuses a Wall Street Journal blog report, "China gets angry at overseas luxury shopping trips", of misrepresenting its commentary earlier this month on how China should win back luxury brand shoppers.
Meanwhile, China Central Television reports three more Chinese government ships patrolling near the disputed islands yesterday. It adds that China will also launch routine patrols around other disputed territory - the Spratly Islands - to better protect local fishermen in the South China Sea.
Zhang Liangui, North Korea expert at the communist party's Central Party School, tells Global Times that Pyongyang will never give up its "bargaining chip" of developing nuclear weapons and that it values relations more with Washington than Beijing.
"China is mistakenly viewed as the only country with any real influence over North Korea... The North has never viewed China as an ally. Even if the two ever had friendship, China has already lost North Korea," Prof Zhang concludes.
Firework smog
Turning to domestic news, Communist Party leader Xi Jinping held talks with Lien Chan, honorary chairman of Taiwan's ruling party, on Monday morning in Beijing, China News Service reports.
The military has issued stricter spending rules to curb waste and extravagance and calls for priority spending on preparations for battle, high-tech weaponry and training, according to Xinhua.
The Communist Party Central Committee is expected to discuss plans to cut 27 government ministries and commissions down to 18 during a key meeting from tomorrow until Thursday, says Beijing Business Times.
There is speculation that the Ministry of Railways, which has been under fire in recent years over a deadly high-speed rail collision near Wenzhou in 2011 and huge debts, will be merged into the Ministry of Transport, Hong Kong's Oriental Daily News adds.
Authorities order the removal of a massive illegal rubbish landfill near Miyun Reservoir, which supplies about two thirds of Beijing's drinking water. One villager tells Global Times that the dump has been in use for as long as three years.
Hong Kong's Oriental Daily News shows photos taken by villagers of discarded neon lighting tubes, batteries, medicine bottles and even dead chickens and dogs among the mosquito-infested rubbish site.
"The emergence of a rubbish landfill upstream from the Miyun Reservoir is undoubtedly a great threat to safe drinking water in Beijing. Local government authorities cannot shirk blame," the Beijing News stresses.
However, Beijing's environment bureau says water quality has "not been affected so far" by the illegal dump, Xinhua adds.
Over in Shandong, thousands of people surrounded the township government of Xianhe to demand compensation and medical treatment after a toxic leak from a petrochemical plant poisoned more than 30,000 residents, says Wen Wei Po.
China Central Television says Beijing's smog reached its highest level on Lantern Festival yesterday as residents set off fireworks to mark the final day of Chinese New Year.
Smog also spread across central and eastern regions as a yellow haze alert was issued yesterday, and "heavy to severely heavy pollution" was recorded in Beijing, China Daily reports.
BBC Monitoring reports and analyses news from TV, radio, web and print media around the world. For more reports from BBC Monitoring, click here. You can follow BBC Monitoring on Twitter and Facebook.