China media: Opinions divided on Congress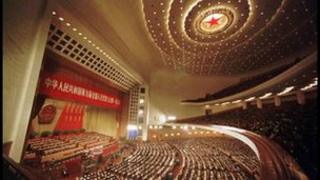 A new line-up of lawmakers for the legislature is receiving a positive reaction from the Chinese media, but some Hong Kong papers are alarmed at a big military presence among the ranks.
A Xinhua roundup featured in Beijing Times says the 2,987 deputies elected to the 12th National People's Congress (NPC), which will hold its national annual meeting next week at the Great Hall of the People in Beijing, are more representative of China's society.
The "most important feature" is the inclusion for the first time of an equal proportion of deputies from urban and rural areas, with more delegates from farming regions and fewer from big cities like Beijing or Shanghai, it says.
The delegate list shows a "marked increase" in the number of front-line workers, migrant workers, farmers, professional and technical personnel and women.
It also notes more ethnic minorities and younger delegates, in their 20s and 30s, as well as fewer party and government officials.
The Beijing News says the new rural-urban balance may not necessarily translate into better representation for all. It encourages "grassroots voices" to speak out on education, healthcare, poverty and other livelihood problems during the meeting.
"What needs to be recognised is that the major increase in grassroots and front-line delegates is just a start. Equality in form is important, but substantive equality is more crucial," the editorial stresses.
Global Times says the reduction in officials and increase in grassroots delegates "is consistent with the major trend of China's development of political democracy".
China will be able to avoid the "derailment and subversion of the Soviet Union" if the ruling Communist Party sticks to its political reform path and the NPC is able to wield "more real power", it adds.
Hong Kong's Ming Pao, however, notes that the People's Liberation Army (PLA) still makes up the biggest bloc of deputies with 268 people. The populous province of eastern Shandong trails second with 175 deputies.
Hong Kong's Apple Daily is dismayed at a big "military bloc" in the NPC. It complains that most party and government officials have just "switched" to being classed as 'intellectuals' rather than bureaucrats. Independent candidates are still barred from the NPC, it adds.
"The message implied by this personnel list is that the people's congress system still 'has a long way to go' in moving towards democratisation," the Apple Daily laments.
Experts tell Hong Kong's South China Morning Post that the upcoming NPC meeting is expected to offer few surprises, with an "overriding focus on economic stability" amid the global financial downturn.
"Most observers do not expect any major surprises because the NPC has mostly served as a 'rubber stamp' to endorse government proposals," it notes.
Meanwhile, a petition signed by more than 120 Chinese journalists, academics and lawyers urging the NPC to ratify "as soon as possible" the International Covenant on Civil and Political Rights - an international human rights treaty - has received little coverage in mainland media.
Many copies of the open letter posted on mainland websites have been deleted, South China Morning Post observes.
Hong Kong Economic Journal, however, notes that an online petition calling for the release of jailed Nobel Peace Prize laureate Liu Xiaobo, and his wife, Liu Xia, who is under house arrest, has collected over 420,000 signatures worldwide.
'Basketball diplomacy'
Turning to international news, Zhang Liangui, North Korea expert at the Communist Party's Central Party School, welcomes a visit to North Korea by US basketball stars as well as earlier visits by the head of Google and the New York Philharmonic, but dismisses any notion of "basketball diplomacy".
"If the US government really had something to say to North Korea, it has more convenient channels... The US basketball delegation's visit to North Korea is unlikely to repeat the 'ping pong diplomacy' story between China and the US," Prof Zhang writes in People's Daily.
The State Oceanic Administration accuses Japan's Weekly Post of "sheer nonsense and malicious speculation" following its expose on a Chinese government ship allegedly aiming a machine gun at a Japanese fishing boat near disputed East China Sea islands on 18 February, People's Daily reports.
Military expert Chen Hu plays down speculation that the stationing of China's sole aircraft carrier in the eastern port of Qingdao is a "deterrent" against Japan, says Beijing Times.
Burmese drug trafficker Naw Kham and four other men will be executed by lethal injection in Kunming on Friday, Southern Metropolis Daily reports. A Chinese court earlier rejected their appeal against a death sentence for the killings of 13 Chinese crewmen in the Mekong River in 2011.
Police in Gansu province have arrested five Tibetans, including a 21-year-old monk, for allegedly inciting three Tibetans to die by self-immolation, The Beijing News reports.
BBC Monitoring reports and analyses news from TV, radio, web and print media around the world. For more reports from BBC Monitoring, click here. You can follow BBC Monitoring on Twitter and Facebook.