China media: NPC spokeswoman praised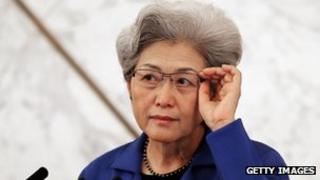 On the day China's outgoing Premier Wen Jiabao opened the National People's Congress (NPC), media in China are focusing on a press conference by the legislature's spokeswoman.
Mr Wen's opening speech and final work report on policies over the last five years was broadcast live on China Central Television and on major news portals.
Xinhua news agency's highlights of Mr Wen's speech include his pledges on curbing unsustainable development, pollution and protecting people's livelihoods.
Media reaction and analysis of his speech is likely to dominate media coverage on Wednesday.
Meanwhile, mainland media have been impressed by Fu Ying's firm stance on Japan during her debut as NPC spokeswoman yesterday. Hong Kong press highlight how she sidestepped questions on political reform and military spending.
"Fu Ying, diplomacy's 'iron lady', turns on the style", says China Daily of Fu Ying's first press briefing. She is a vice foreign minister and former ambassador to Britain.
"Fighting words from first NPC spokeswoman Fu Ying," Hong Kong's South China Morning Post headline reads. It highlights how Fu Ying broke with precedence by refusing to reveal China's higher defence budget at the press briefing.
Xinhua news agency adds that China's draft budget includes a defence spending increase by 10.7% to more than 720bn yuan ($115.7bn: £76.5bn) this year.
Hong Kong's Apple Daily welcomes Fu Ying's "firm and graceful, noble and elegant image", but says she disappointed the outside world with "shadow boxing" or stonewalling on political reform.
Ms Fu says China has already found its path of political reform and that it is "unfair and inaccurate" to say China will go nowhere if it does not copy other countries' models.
Beijing independent journalist Gao Yu tells Apple Daily that as a spokeswoman, Fu Ying would have been well briefed on incoming President Xi Jinping's ideas on political reform
"This does not bode well for the media," she says.
A bilingual Global Times editorial notes that Fu Ying's defence of China's political reform comes in the context of calls at home and abroad for China's reform to "go beyond the constitution".
"China lacks experience in dealing with such calls. There is no consensus among mainstream society as to whether we should input energy into this problem-solving endeavour," the editorial comments.
China Daily and Southern Metropolis Daily highlight how Fu Ying blamed Japan for escalating an East China Sea islands dispute.
Southern Metropolis Daily notes that when Chinese reporters laughed at a question by a correspondent of Japan's Kyodo News on the possibility of Beijing's diplomacy becoming "more aggressive", Fu Ying said the laughs did not reflect the majority of views in China.
"The view of many Chinese, including the media, is that they want China to be tougher, especially in the face of provocation," she said. She added that Tokyo needs to reciprocate on resolving the islands dispute through negotiations.
In other Japan-related news, Hong Kong's Apple Daily says former ambassador to Japan Wang Yi is tipped as China's new foreign minister.
Taipei's Want Daily is already welcoming "ice-breaking expert" Mr Wang's rumoured promotion as Beijing's "signal of peace" for improved relations with Japan and the outside world.
Turning to the ongoing session of the Chinese People's Political Consultative Conference (CPPCC), the country's national advisory body, People's Daily says party watchdog chief Wang Qishan has told delegates that the Communist Party must fight a protracted "war of annihilation" on corruption, by not just "swatting flies" but also "beating tigers" or top officials.
Railways Minister Sheng Guangzu sidesteps questions from The Beijing News about rumours surrounding a merger of the railway and transport ministries, but says more private investment is needed to help ease his ministry's massive debts from building high-speed railways.
Global Times notes how several deputies and members blasted "human flesh search engines" - online witch hunts for corrupt officials - as "vulgar" and "lacking credibility" during panel discussions.
Meanwhile, residents are speculating on how the return of clear, blue, smog-free skies to Beijing has coincided with the two sessions, Hong Kong's South China Morning Post observes.
Turning southwards to Guangdong, Hong Kong's Oriental Daily News features the villagers of Shangpu destroying cars and throwing rocks at police.
They accuse local officials and businessmen of stealing their land and are calling for democratic village elections.
BBC Monitoring reports and analyses news from TV, radio, web and print media around the world. For more reports from BBC Monitoring, click here. You can follow BBC Monitoring on Twitter and Facebook.