Chinese activist Lu Haitao in US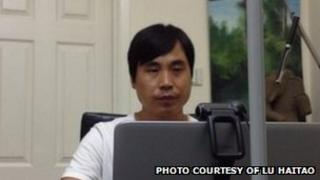 The US State Department has confirmed that Chinese dissident Lu Haitao and his wife are in the US.
Spokeswoman Victoria Nuland refused to give any details of the case, nor would she comment on whether the pair had been granted political asylum.
Mr Lu, a writer and human rights activist since 2011, had campaigned on behalf of blind lawyer Chen Guangcheng.
He was detained after a protest in Mr Chen's village in December 2011 and then again the next year.
Mr Lu was repeatedly interrogated after Mr Chen's escape from house arrest in April 2012, Amnesty International said, and his wife suffered a miscarriage due to police harassment.
He was evicted from his house in June, in a move the rights group linked to his activism.
There has been no word from Mr Lu about his escape since his arrival in the US.
Hu Jia, the prominent rights activist based in Beijing, told the BBC the couple had travelled to the US in early December 2012 from Taiwan, having obtained help from US diplomats, including verification that they had faced political persecution in China.
Mr Lu did not want to reveal any details about his escape due to a tacit agreement with US officials, Hu Jia said.
"They continue to get help from the State Department, and will get (a) social security number after a while", Hu Jia said.
A spokesperson for the US government's de facto embassy in Taipei, the American Institute in Taiwan, declined to comment on the case, citing State Department policy.