China media: Railways ministry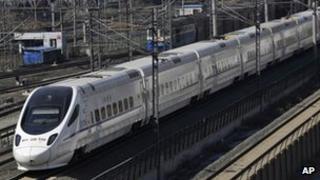 Media in China welcome the government's overhaul of its massive bureaucracy, including the long-anticipated scrapping of the debt and scandal-ridden railways ministry, but say the move is only the first step in a difficult path to reforms.
Under the Communist Party's reform blueprint, which has been handed over to the legislature for approval this week, 27 ministries in the State Council, China's cabinet, have been reduced to 25.
And many other lower-level agencies will be merged together in the overhaul process.
"The just-unveiled plan to reshuffle State Council agencies may not be as broad or thorough as some anticipated, but even with some apparently 'interim' arrangements, it is a welcome move," China Daily comments.
Southern Metropolis Daily notes that many internet users are "a little pessimistic about the prospects for reform" after seeing the limited extent of the downsizing, and says a desire for a "small government, big society" is growing among the public.
It calls for more steps to decentralise government power.
The government cannot control everything and must keep decentralising more self-governance powers and rights to society and local authorities, The Beijing News adds.
A bilingual Global Times editorial also notes public disappointment over the limited scale of the cutbacks but stresses that the government will always be more interventionist than foreign governments.
"No matter how China's institutional reforms are carried out, the Chinese government is unlikely to become a Western one that plays a smaller role in a bigger market," the editorial says.
Railway reforms
One of the most anticipated reforms is the division of the railways ministry as a policy and regulatory unit under the transport ministry. A state-owned company will run the railway network.
A collision between two high-speed trains near Wenzhou in 2011, the sacking of the then railways minister for corruption, plus public frustration over the ministry's ticket sales system are widely believed to be factors behind the ministry's demise.
Yang Kai, editor of the People's Daily overseas edition, calls the ministry's merger the "most striking" part of the new round of government downsizing and says the new "slimmed-down" system will give rise to a "clean, efficient and service-oriented government".
However, Southern Metropolis Daily calls the dismantling of the railways ministry bittersweet for the public since they will have to pay higher ticket prices.
Jing Bao points out that earlier shake-ups of the housing, medical and education sectors have only shifted the burden of higher prices onto taxpayers.
The newspaper also calls on the authorities to address public concerns over higher ticket prices.
An even bigger concern is how the debt-ridden railways ministry will secure more funding with bonds from the finance ministry, China Daily notes.
"China's financial stability might be compromised if the railway ministry's considerable liabilities, especially those issued by banks, are not well managed," Global Times quotes banking officials and executives as saying.
Hong Kong's Oriental Daily News says the public are justifiably concerned that yet another round of streamlining could just be "new wine in old bottles" and fail to curb China's bloated bureaucracy.
Hong Kong's Apple Daily, expresses disappointment that incoming premier Li Keqiang has "lost the battle again" against vested interests and his streamlining plans have "come to nothing" in only managing to reduce ministries from 27 to 25.
Another key reorganisation is the regrouping of maritime patrols into a unified coast guard. Li Jie, a senior captain at the Chinese Naval Research Institute, tells Global Times that territorial disputes with Japan exposed "chaotic and inefficient" management of maritime affairs with as many as 17 military and government agencies involved.
In China Daily, Prof Gong Jianhua, a maritime affairs specialist at Guangdong Ocean University, welcomes the new coast guard, but says China should promote joint development with neighbours in the South China Sea on the basis of a China-Asean free trade zone to ease "anxiety and suspicion".
Village protests
In other news, China Central Television, People's Daily Overseas Edition and other state media have given high-profile coverage of a report by China's internet security watchdog that tens of thousands of Chinese websites were hit by a higher number of cyber attacks in the first two months of this year, with more than half launched from the US.
Hong Kong's Oriental Daily News reports a further outbreak of bloody clashes between riot police and villagers in the restive village of Shangpu in southern Guangdong Province yesterday.
One Shangpu villager tells Global Times says residents want the village chief to be punished for allegedly hiring "thugs" to rough up villagers protesting against an alleged illegal land grab by local officials and businesses.
BBC Monitoring reports and analyses news from TV, radio, web and print media around the world. For more reports from BBC Monitoring, click here. You can follow BBC Monitoring on Twitter and Facebook.