China media: Tension over North Korea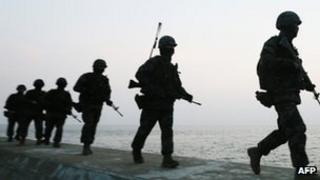 Media and experts in China shift blame to Washington and Seoul for a recent flare-up of tensions between the two Koreas, while noting that debate on whether to cut Pyongyang off is growing in China.
Xinhua News Agency says a recent flare-up of tensions on the Korean Peninsula has laid bare the US' "failed" policy of sanctions and urges all sides to remain calm and return to the six-party talks.
A bilingual Global Times editorial says South Korea lacks the courage and influence to forge peace with the North and must stop being a "puppet" and "pawn" of the US in countering China's rise.
People's Daily Overseas Edition quotes unnamed experts playing down North Korea's hostile reaction towards an ongoing US-South Korean military drill as a "bluff" aimed at securing a peace agreement with the US. They dismiss the likelihood of war or a possible shelling attack by Pyongyang.
Wang Fan, Koreas expert and director of the Institute of International Studies at China Foreign Affairs University, disagrees however and tells China Daily that the US-South Korean military drills will only provoke Pyongyang further.
Communist Party School professor and North Korea expert Zhang Liangui tells China News Service that South Korea's bigger role in the routine US-South Korean military exercises may have provoked Pyongyang.
Prof Zhang says war is unlikely, but warns that Pyongyang has "lost the capacity for calm analysis" and may engage in "risky actions" again to prove its power to the outside world.
Chen Fengjun at the School of International Relations in Peking University notes growing public debate on whether to "abandon" North Korea but stresses that China's priority consideration is preventing an outflow of refugees or nuclear weapons triggered by instability or war.
Prof Chen says China's policy will not change irrespective of whether it likes or dislikes its neighbour.
"Of course, if there is a sudden subversive turn of events in the North, that is another matter. It can only eat the bitter fruit of its own making and no-one can save it," Prof Chen writes in Global Times.
On the domestic front, as expected, Yu Zhengsheng, who is ranked number four in the Communist Party hierarchy, was elected as chairman of the Chinese People's Political Consultative Conference (CPPCC), the country's national advisory body, Xinhua reports.
Apple Daily notes that Yu Zhengsheng's election was not affected by his brother's defection to the United States in 1985 in a major spy scandal.
The defection, along with Mr Yu's father's marriage to Mao Zedong's demonised wife Jiang Qing, are missing from Xinhua's biography of him
In other domestic news, Global Times welcomes the exclusion of rights groups and foreign NGOs from relaxed registration controls for NGOs in China as "a safe step" for ensuring stability.
Since the CPPCC's annual session began on 3 March, about one-tenth of roughly 5,000 proposals submitted concern environmental protection, including plans to tackle severely polluted groundwater, China Daily reports.
Water tests
The Beijing News says the ministry of agriculture is investigating the deaths of more than 3,000 pigs found in the Huangpu River. Shanghai authorities have stepped up tap water tests and assure residents that the tap water is safe to use.
However, one unnamed expert from the Shanghai Academy of Agricultural Sciences tells Global Times that the public's health could be at risk, despite government assurances that porcine circovirus found in one dead pig is not harmful to humans, just pigs.
"What if the pigs were carrying other viruses that are transmittable to humans - for example, salmonella?" the expert told Global Times.
Global Times says villagers in Shangpu in Guangdong have taken down barricades after a spate of clashes between villagers and police in a long-running dispute over alleged land grabs by local officials and businesses.
Over in Hong Kong, a media row is continuing over a senior Hong Kong NPC deputy's alleged call for a screening mechanism to bar candidates deemed unacceptable to Beijing from contesting the city's chief executive election in 2017.
Ming Pao and Apple Daily warn that such a plan will only further fuel an "Occupy Central" sit-in rally in the city's financial district on 1 July to push for universal suffrage.
BBC Monitoring reports and analyses news from TV, radio, web and print media around the world. For more reports from BBC Monitoring, click here. You can follow BBC Monitoring on Twitter and Facebook.