China media: New dream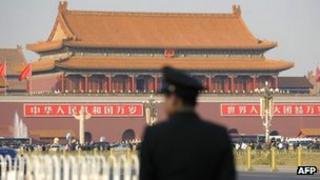 Mainland media voice their own "China Dream" with calls for more rights and political reform, while Taiwan media hope to avoid fall-out over President Ma's Vatican visit.
After the close of annual parliamentary sessions in Beijing, Global Times expresses hope that the "China Dream" in new President Xi Jinping's maiden speech would unite the country's seemingly fragmented society amid increasing scepticism and disillusionment among some members of the public.
"There have been voices on the internet claiming that neither the prosperity nor the decay of China has anything to do with them. But these are only angry words that have emerged along with a more open era," the editorial says.
Global Times also notes that the government has been heavily under fire over inflation, pollution, food safety and other issues and must fight to win back public support.
"The acute nature of conflicts between Chinese internet public opinion and the government has gone beyond a normal degree," it stresses.
The Beijing News says more efforts are urgently needed to defeat vested interests stalling reform and to better protect civil rights.
Editor Hu Shuli of Beijing's Century Weekly business magazine says the government must downsize more, "hand over power to the people" and accept more public supervision.
"In the final analysis, government reform and political reform are inseparable," Ms Hu stresses.
Meanwhile over in Hong Kong, Oriental Daily News hopes that Mr Xi's "China dream" will not turn into another "daydream" with no progress on political reform, worsening bureaucracy and corruption, acute social conflicts and "public grievances ready to erupt like a volcano".
"With a lack of political reform, one can hardly say that the Chinese Communists' foundation for building a modern Chinese state are consolidated," Hong Kong Economic Journal comments.
Hong Kong Economic Times says Mr Xi's "China dream" can only come true if the new leadership can win a "tough battle" to cut out the "cancer of vested interest groups".
Ming Pao says Mr Xi's "China dream" must include a "Hong Kong dream" of the city's first ever fully democratic elections for the chief executive in 2017.
"The people of Hong Kong are mostly patriotic. We are not only happy to see the China dream of reviving the Chinese nation being fulfilled, we also have a dream of a democratic Hong Kong. We hope the central government will rely closely on the people of Hong Kong to fulfil a dream of a democratic Hong Kong," the newspaper says.
A commentary by Ta Kung Pao, a Hong Kong newspaper with close ties to Beijing, says Mr Xi's call yesterday for Hong Kong people to safeguard the interests of their city and nation was a "strong reminder" to "say no" to unnamed forces "inciting confrontation, advocating 'Hong Kong independence' and subverting state power".
In contrast, Hong Kong's Apple Daily warns the new leadership that if they continue to resort to "delaying tactics" and not allow truly free and fair elections of the city's legislature and chief executive, they will face "Occupy Central", a civil disobedience movement to campaign for universal suffrage on 1 July.
Vatican visit
Across the Taiwan Strait, media are watching Beijing closely ahead of Taiwan President Ma Ying-jeou's attendance at the inaugural Mass of Pope Francis tomorrow.
Central Daily News urges Taipei to respond "cautiously" and "flexibly" to any protests by Beijing over Mr Ma's Rome visit.
However, in Want Daily, Charles Chen Yi-hsin, a former spokesman of Taipei's ruling Nationalist party, says Beijing is still repeating calls for the Vatican to cut diplomatic ties with Taiwan.
Mr Chen says Beijing must come up with a more flexible approach to initiating political dialogue with Taipei that treats its government, the Republic of China, on an equal footing.
Taipei Times warns that Beijing's consistent opposition to the Vatican's ties with Taiwan underlines former American Institute in Taiwan director William Stanton's views that Beijing will remain "authoritarian".
Mr Stanton said that Taiwan's strategy of maintaining the status quo with Beijing was an "illusion" as Taiwan is economically dependent on an increasingly powerful China.
Want Daily says Taiwan must strike a balance between buying more US arms in self-defence but plays down Mr Stanton's observations. It stresses that Taipei should keep its door open to mainland society and support the mainland's gradual political reform on its own chosen path.
Back on the mainland, experts tell Global Times that a 2% decrease target in air pollution set by Beijing's environmental protection bureau is too low.
Earlier on Saturday, long boos greeted the appointment of a new environmental team at the legislative sessions in Beijing, with environment minister Zhou Shengxian being re-elected with the lowest number votes among new ministers, Hong Kong's South China Morning Post reports.
Shanghai authorities say tap water quality remains normal as the tally of dead pigs pulled from rivers in and near Shanghai tops 13,000, South China Morning Post adds.
BBC Monitoring reports and analyses news from TV, radio, web and print media around the world. For more reports from BBC Monitoring, click here. You can follow BBC Monitoring on Twitter and Facebook.