China and US hail 'shared interests'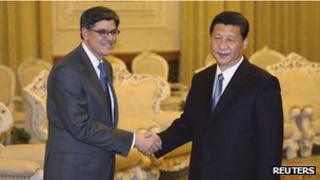 Xi Jinping has called for strong ties with the US, in the first high-level meeting between the two sides since he was confirmed as China's president.
His comments came in talks with Jack Lew, who is in Beijing on his first overseas trip as US Treasury Secretary.
The two countries should approach the relationship "from a strategic and long-term perspective", Mr Xi said.
Mr Lew said the two countries should "work together to reduce barriers to trade and investment".
"In the China-US relationship, we have enormous shared interests, but of course, unavoidably, we have some differences," Mr Xi said at a meeting in the Great Hall of the People in Beijing.
"We stand ready to work with the US side to continue to develop this China-US co-operative partnership."
Mr Lew said that as the world's two largest economies, the US and China had "a special responsibility to maintain strong, stable and sustained growth in the world".
"We look forward to China contributing more and more to global demand," he added.
The US wants China to move towards a more consumer-led economy, narrowing the trade gap between the two countries.
Mr Lew was also expected to raise North Korea's nuclear ambitions, regional security and cybercrime at the meeting.
Cyber concerns
The meeting is the first high-level face-to-face contact between the two countries since Xi Jinping was formalised as China's head of state last week.
It comes at a time of raised tensions between the two, amid allegations Chinese hackers - possible linked to the military - were behind multiple attacks on US companies.
In a phone call last week congratulating Xi Jinping on his election as head of state, US President Barack Obama raised concerns over cyber-security and China's exchange rate policy, White House officials said.
US cyber security firm Mandiant said in February that it had linked hundreds of data breaches since 2004 to a Chinese hacking team it had traced to the site of a military unit in Shanghai.
China, which called the Mandiant report flawed, says that it opposes hacking activities and is a victim of cyber attacks itself.
US Secretary of State John Kerry is scheduled to visit China next month, while Mr Xi is scheduled to make his first overseas state visits from 22-30 March, going to Russia, Tanzania, South Africa and the Republic of Congo.