China media: Xi's foreign policy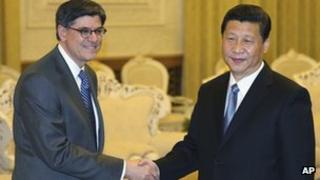 Media in China are abuzz about Xi Jinping's upcoming tour as president to Russia and Africa, while echoing his calls for a new type of relationship with the US.
In the first high-level Sino-US contact since China's once-in-a-decade leadership transition, Mr Xi told US Treasury Secretary Jacob Lew in Beijing yesterday that he wanted to build a new type of relationship with Washington centred on "core interests".
Xinhua says the timing of Mr Lew's two-day visit to Beijing "underscores the importance both China and the US have put on their economic relationship". The news agency calls on Washington to open up market access for Chinese companies in return for similar favours from China.
China Daily says the meeting shows that both countries are keen to address "differences" over cyber-security, the value of the renminbi, market access and US high-tech export restrictions imposed on China after the Tiananmen crackdown in 1989.
A report by China's National Computer Network Emergency Response Technical Team adds that China has had difficulties in establishing co-operation with other countries against cyber-attacks, especially the US, China Daily says.
Ahead of Mr Xi's maiden overseas tour as president this Friday to Russia, Tanzania, South Africa and the Republic of Congo, his interview with reporters from the Brics nations of China, Brazil, Russia, India and South Africa is the top story on the front pages of People's Daily and other major media.
A bilingual Global Times editorial calls Russia China's "most important strategic partner", but stresses that the US "wields the biggest influence on China's interests". It calls on China and the US to build as many "common interests" as possible, especially on avoiding war, as well as a management and control mechanism for conflicts.
In Global Times, Ren Weidong, researcher at the Centre for Strategic Studies, China Institutes of Contemporary International Relations, warns that if China falls out with Pyongyang, the US will help South Korea annex the North. He says China must push the US to withdraw troops from the peninsula and set up a new peace mechanism to replace the armistice agreement with Pyongyang.
However, Zhang Liangui, North Korea expert at the Communist Party's Central Party School, says, also in Global Times, that Mr Ren always harbours a "Cold War mentality" of failing to see North Korea's potential threat to China. He warns that China must not "appease" Pyongyang with more aid in the hope that it will abandon its nuclear programme.
Iraq war
State media have given high-profile negative coverage to the 10th anniversary of the Iraq war.
China Daily foresees "bleak" prospects and even further turmoil in Iraq and warns against "unilateralism" to resolve conflicts in other countries. It says the US owes an explanation to the Iraqis on why it has "yet to deliver on its promises on self-governance, peace and stability", not to mention the "untrue grounds" for starting its "dumb war".
Xinhua foresees few breakthroughs on the Israeli-Palestinian peace process, Syria, or Iran's nuclear programme during US President Barack Obama's tour of the Middle East.
Taipei's Apple Daily reports that Taiwan's President Ma Ying-jeou was able to have a "one-minute audience" with the new Pope Francis in their first meeting yesterday, as well as exchanges with US Vice President Joe Biden and German Chancellor Angela Merkel.
Taipei's Liberty Times, however, dismisses Mr Ma's "hype" on achieving cross-strait reconciliation and highlights how Beijing renewed calls earlier this week for the Vatican to sever diplomatic ties with Taipei.
Turning back to the mainland, the Communist Party's discipline watchdog has publically named officials, companies and institutions violating new frugality rules introduced last year, The Beijing News reports.
The "six typical examples" include an official in Jiangsu who took more than 80 cadres on a sightseeing tour of Xiamen and village bosses in Jiangxi who hosted lavish banquets for government officials after moving into a new village committee building.
The party has also issued a ban on plagiarism, banquets, entertainment, overseas tours and networking while officials study at training centres or Communist Party schools, China Daily reports.
There will be spot checks to ensure that officials live in school dormitories and eat at canteens during their studies.
Police in the Tibetan prefecture of Ngaba in Sichuan province tell Global Times that a Tibetan woman whose charred remains were found on 12 March was killed by her husband, who is in police custody.
They refute reports by the US government-funded Radio Free Asia (RFA) that the woman, Konchog Wangmo, burned herself to death in protest against Chinese rule on 13 March. RFA says her husband was detained for refusing to blame the self-immolation on a family dispute.
BBC Monitoring reports and analyses news from TV, radio, web and print media around the world. For more reports from BBC Monitoring, click here. You can follow BBC Monitoring on Twitter and Facebook.