China media: Residency controversy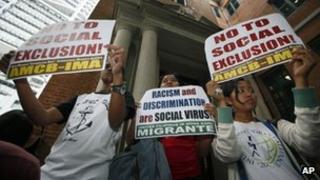 Hong Kong media unanimously back a top court ruling which rejects permanent residency for foreign domestic helpers, but are divided over the court's decision not to seek Beijing's clarification on the right of abode for mainlanders' children born in the city.
Besides ruling that foreign domestic workers are ineligible to apply for permanent residency, Hong Kong's Court of Final Appeal (CFA) yesterday also rejected a Hong Kong government request that it seek interpretation from the National People's Congress (NPC) in Beijing.
The government had wanted advice on whether the Basic Law, Hong Kong's mini-constitution, grants the right of abode to children born in Hong Kong to mainland mothers who are neither local residents nor married to Hong Kong men - often referred to as "two not's" because neither of their parents are from Hong Kong.
The CFA says the right of abode provision in the Basic Law is clear enough and a further interpretation is unnecessary. It made a previous ruling in 2001 allowing mainland citizens born in Hong Kong to enjoy the right of abode regardless of their parents' residency status in the city.
Expressing disappointment with the CFA's decision, the Hong Kong edition of China Daily, a Beijing government mouthpiece, says it would be better for the NPC to nullify the CFA's 2001 ruling to clear the way for the Hong Kong government to use legal means to stop mainland women from giving birth in the city and avoid future legal battles.
Wen Wei Po, a Beijing-backed newspaper, concurs and says the abode controversy will continue unless the court's "wrong decision" is corrected. It encourages the Hong Kong government to appeal directly to Beijing for an interpretation if all else fails.
Oriental Daily News, a popular tabloid, says Hong Kong will continue to pay a "heavy price" for the court's rejection of an interpretation from Beijing on the abode issue and says administrative measures alone cannot completely stop the influx of pregnant mainlanders.
Apple Daily praises the court for "standing firm" against the Hong Kong government's attempt to go through the "backdoor" by asking it to seek an interpretation from Beijing.
Hong Kong Economic Journal, Hong Kong Economic Times and Sing Tao Daily advise the Hong Kong government to rely on stricter curbs and to avoid stirring controversy by seeking a clarification from Beijing on the abode issue.
Democracy debate
In other Hong Kong news, Ming Pao warns that Qiao Xiaoyang, chairman of the NPC Law Committee, risks forcing people onto the streets in protest after he stated that a nomination committee will be responsible for endorsing candidates ahead of Hong Kong chief executive elections in 2017.
Mr Qiao also said that any members of the "opposition camp" who insist on "confronting" the central government cannot become chief executive.
"People of Hong Kong have been fighting for universal suffrage for decades and it has reached a critical point this year... This has become intolerable for a lot of the moderate middle class," the newspaper warns.
Meanwhile, an e-petition has appeared on the UK government's website urging the Foreign and Commonwealth Office to join the debate on the city's democracy, South China Morning Post reports.
Turning to international news, Sina and other major news portals have given high-profile coverage of Vietnam accusing a Chinese vessel of chasing and firing on one of its fishing boats near the disputed Paracel Islands last Wednesday.
Xue Zhi, a cyber-security professor at Shanghai Jiaotong University, tells Global Times that a Reuters report linking him to cyber espionage is "utterly ludicrous".
The report says he collaborated on technical research papers with the Shanghai-based People's Liberation Army unit 61398, which has been accused by US cyber-security firm Mandiant of launching cyber attacks on Western commercial targets.
Africa fanfare
Amid state media fanfare over President Xi Jinping's ongoing overseas tour of Africa, keyword searches related to new First Lady Peng Liyuan, who is accompanying Mr Xi, have reportedly been blocked on China's Twitter-like microblog service Sina Weibo, China Digital Times notes.
Turning to domestic news, Wu Jinglian, an economist at the Development Research Centre of the State Council, China's cabinet, has blown the whistle on the government earning around 30 trillion yuan ($4.8tn; £3.2tn) in profit by selling farmers' land to developers over the years, Shanghai Securities News reports.
The finance ministry has dismissed findings by the Institute for Public Policy in Zhejiang province on government spending on trips overseas, vehicles and banquets reaching 900bn yuan ($145bn; £95bn), or 10% of China's total revenue last year, Xiaoxiang Morning News reports.
The Beijing Health Bureau raided a clinic offering illegal assisted reproductive services in the capital on Monday, China Daily reports.
China Central Television undercover reporters found that the clinic was charging 1m yuan ($161,000; £105,900) for successfully assisting the birth of a baby, and more than 1.2m yuan if one wanted to have boys. It also offered gender diagnosis which is banned in China.
BBC Monitoring reports and analyses news from TV, radio, web and print media around the world. For more reports from BBC Monitoring, click here. You can follow BBC Monitoring on Twitter and Facebook.