China media: Vietnam row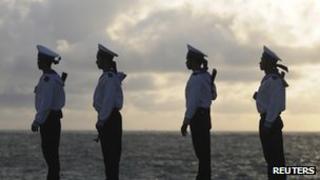 State media back Beijing's stance that it took "legitimate" actions against a Vietnamese boat fishing "illegally" in the South China Sea, and do not confirm Hanoi's complaints that the boat was set ablaze.
China Central Television, the front page of Liberation Army Daily and major news portals prominently report the foreign ministry's stance that China had taken unspecified but "legitimate and reasonable" actions against the boat.
The ministry denied that any boats had been damaged in the stand-off.
Hanoi protested angrily on Monday that Chinese government ships drove off and opened fire on a Vietnamese fishing boat and burned down its cabin near the disputed Paracel Islands on 20 March.
The islands are called Xisha in China and Hoàng Sa in Vietnam.
"Vietnam has planned to bluff the international community by playing the role of victim, and it is actually trying to justify its illegal claim over the islands," Wu Shicun, director of the National Institute for South China Sea Studies, tells China Daily.
A Global Times commentary quotes Chinese naval authorities as saying that the Chinese navy fired a warning flare that burnt out in mid-air after the Vietnamese fishing boat ignored calls to leave the waters. They call Hanoi's complaint that the navy shot at the Vietnamese fishing boat a "pure fabrication".
Beijing's Sina and other major news portals report that an earthquake in Taiwan's central Nantou county at around 10:00 local time inured several people and even shook buildings further north in Taipei.
The tremors were felt as far away as Shanghai and Hangzhou on the mainland's east coast.
BRICS bank
In other international news, Chinese experts welcome plans for a development bank funded by the BRICS nations that is expected to provide loans for infrastructure construction in the developing world.
Global Times adds that Chinese President Xi Jinping reached bilateral deals in South Africa yesterday on trade, economic cooperation, energy, minerals and infrastructure.
Free trade deal talks between China, Japan and South Korea that finally got underway in Seoul yesterday have also been widely welcomed by Chinese experts, despite predictions that the negotiations may stall over opening up sensitive sectors like farming and manufacturing, further territorial spats or even US resistance, Liberation Daily reports.
Turning to domestic news, Premier Li Keqiang has told the State Council's first meeting on tackling corruption that officials will have fewer public funds for new buildings, business trips, entertaining and official cars, China Daily reports.
Premier Li also stressed that local governments must accept more supervision, "tell the truth to the public" and take the initiative to disclose key information such as budgets, expenses and food safety
However, Chen Ziming, a Beijing-based political analyst, tells South China Morning Post that the premier has "no confidence fighting corruption" because he did not mention a system for disclosing officials' assets, which the public have been demanding.
Despite the frugality drive, officials from Fujian and elsewhere have also revealed to South China Morning Post that local governments are secretly hiring top-notch chefs and sprucing up their canteens to get round the president's ban on extravagant official feasts in restaurants.
Fight against blackmail
Rural Shuangfeng county in Hunan has declared a "people's war" on forged sex photos that have been used to blackmail local officials and businessmen, the newspaper also reports.
In environmental news, Xinhua flags up a survey by the Chinese Academy of Geological Sciences showing that only 22.2%of shallow groundwater in the North China Plain is drinkable because of pollution.
With Tomb-Sweeping Day - a traditional holiday to honour ancestors in China - approaching in early April, the government in Zhoukou in Henan has urged villagers not to rebuild more graves during the festival that were forcibly demolished amid widespread public resistance.
State media have not confirmed reports by Tibetan rights blogger Woeser and overseas Chinese-language media on the self-burning death of Lhamo Kyab in Gansu's Xiahe county on Monday.
Overseas Tibetan rights groups say that he is the 111th Tibetan to self-immolate in protest at Chinese rule since 2009.
Nor have mainstream media commented on internet users on Sina Weibo and other social media platforms angered and shocked at a photo allegedly of a forcibly aborted foetus.
The US government-funded Radio Free Asia and overseas Chinese-language media say its mother was reportedly forced to terminate her seven-month pregnancy in Anhui for exceeding her childbirth quota.
BBC Monitoring reports and analyses news from TV, radio, web and print media around the world. For more reports from BBC Monitoring, click here. You can follow BBC Monitoring on Twitter and Facebook.