China media: Views on North Korea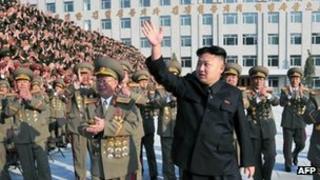 The media in China has touched on various topics - including North Korea's warning to foreigners to evacuate, bird flu, milk powder and the German band Kraftwerk.
Experts differ on whether North Korea's recent warnings to foreigners and foreign organisations to evacuate the peninsula is a bluff aimed at strengthening its bargaining position with the international community.
In Global Times, Zhang Liangui, a North Korea expert at the Communist Party's Central Party School, foresees a "70- 80% likelihood of war breaking out on the Korean Peninsula", and believes that North Korea's aim is reunification with the South by armed force.
Cai Jian, deputy director of the Centre for Korean Studies at Shanghai's Fudan University, disagrees and tells Global Times that a large-scale military conflict is unlikely to break out because North Korea's threats are largely just psychological warfare against the US and South Korea.
Pang Zhongying, a professor of international relations at Beijing's Renmin University, says North Korea is becoming "a headache" and is no longer heeding Beijing's concerns. He indicates to South China Morning Post that China and the US may co-operate to contain Pyongyang.
Some media and scholars are rebuking North Korea for escalating tensions, but also blame the US, Japan and South Korea for increasing Pyongyang's sense of insecurity with military manoeuvres.
Commentator Hua Yiwen in the overseas edition of People's Daily calls on the US not to "add fuel to the fire", calls on South Korea to cool down tensions rather than "dancing with the US". Likewise it calls on Japan to not "exploit" the crisis for its own ends.
Ta Kung Pao, a Beijing-backed Hong Kong newspaper, foresees a "military conflict ready to break out at any moment" from more missile and nuclear tests by North Korea, and also puts the blame on the US, Japan and South Korea.
It says that the US "return to Asia" has broken a fragile regional balance.
"Some of the partners of the US are dancing along with it as though they have taken stimulants, turning the Western Pacific into a mess," the newspaper says.
In other international news, Xinhua and China Daily highlight calls by Chinese and US officials and experts for more cyber-security co-operation and less "blame or accusations without evidence" of state-sponsored hacker attacks, during the US-China Internet Industry Forum in Beijing.
The reports do not mention US Under Secretary of State Robert Hormats, US Ambassador to China Gary Locke and US business figures pressing Beijing on hacker attacks that they say undermine relations with the US.
'Mutating bird flu'
On bird flu, Xinhua says two new H7N9 cases were recorded in Shanghai and another two in neighbouring Zhejiang province on Tuesday, bringing the total number of cases nationwide to 28.
Chinese scientists are concerned over whether the new H7N9 bird flu will mutate and pose a bigger threat, Global Times reports.
Dr He Jiankui at the South University of Science and Technology of China in Shenzhen warns that the new bird flu could be mutating up to eight times faster than an average flu virus, South China Morning Post adds.
The Beijing News demands answers on why authorities did not make public the first cases of bird flu in humans and pigeons in Shanghai and complains about a lack of co-ordination between health and agriculture departments.
Shanghai's water authority is under fire again for its reluctance to release data or its testing methods on water quality, amid public concerns over 16,000 dead pigs and hundreds of dead carp in waterways in and around the city in recent weeks, notes Caixin.
Villagers in Kunming in Yunnan are unconvinced by official assurances that water from a "milk river" is safe for drinking and farming, They say that it is getting harder to cultivate watermelons with foul-tasting water, Xinhua reports.
Beijing Morning Post notes how the Chinese are being forced to rely on domestically-sold infant formula despite concerns over its safety, following moves by British supermarkets Morrisons, Sainsbury's, Asda and Tesco to limit customers to two tins of infant formula. Similar restrictions are already in place in Germany, New Zealand, Australia, and Hong Kong.
Caixin reports Fitch Ratings' first-ever downgrade of a sovereign rating of China after it lowered its local currency debt rating to A-plus from AA-minus due to soaring borrowing levels and a lack of transparency on local government debt.
Global Times says foreign artists are "doomed to fail" in promoting support for Tibetan independence among the Chinese.
It cites unconfirmed reports by the UK's Guardian newspaper on China refusing a visa to German band Kraftwerk for an upcoming music festival in Beijing because of their scheduled appearance at a cancelled pro-Tibetan independence fundraiser in 1999.