China media: Debate on North Korea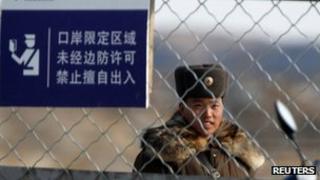 The Chinese press on Thursday assesses the likelihood of war on the Korean peninsula and expresses views on a fishing deal between Japan and Taiwan.
They also discuss corruption charges against a former railways minister, bird flu and censors cutting US director Quentin Tarantino's film.
But it is North Korea that continues to dominate international news in China's media. A bilingual Global Times editorial says Pyongyang should "stay rational" and "drop its illusions" that it can silence international opposition to its desire for nuclear arms through "deceptions" and threats.
"Regardless of the situation, we believe the North still has a chance and we regret that it has become mired in this crisis. We hope the crisis is only temporary," the editorial concludes.
North Korea expert at the Communist Party's Central Party School, Zhang Liangui, tells Oriental Morning Post that North Korea has "completely shut the door to negotiations" and that the crisis will continue to reach "unmanageable levels".
Prof Zhang predicts that Pyongyang will launch another missile, but says the timing and target of the launch are unclear.
Prof Zhang and Prof Zhu Feng at Peking University also tell the newspaper that the crisis is an opportunity for China and the US to co-operate more closely.
The US may even rein in Japan in territorial disputes in return for China's co-operation, Prof Liu Ming of the Shanghai Academy of Social Sciences adds.
In People's Daily's overseas edition, Shen Dingli at Shanghai's Fudan University says North Korea does not have the capability to wage a nuclear strike on the US. He urges US President Obama to take the initiative and call North Korean leader Kim Jong-un to establish trust.
People's Daily overseas edition reporter Yang Ziyan agrees that North Korea is unlikely to start war. But he disagrees with Zhang Liangui's forecast of a "70-80% likelihood of war breaking out on the Korean Peninsula".
China Daily rebukes North Korea for holding nuclear and missile tests, but reminds the US, South Korea and Japan to "refrain from any provocative move that may invite a desperate response from Pyongyang".
A travel agency in the Chinese border city of Dandong confirms to Southern Metropolis Daily that tourism authorities have issued a notice advising travellers to cancel or delay tours to North Korea in the near future.
China Daily, however, says Chinese travel agents are taking the initiative to suspend tours to North Korea and no notice to halt tourism has been received. It quotes the foreign ministry as saying that the border crossing between North Korea and China has not been closed.
A manager at one local travel agent also tells China Daily that its tours to North Korea are still operating as normal, and it will send a tour group to the country at the end of this month.
Islands dispute
In other international news, Beijing's Global Times accuses Japan of "driving a wedge" between the two sides of the Taiwan strait after Taiwan signed a new fishing rights agreement with Japan.
The deal will allow Taiwan fishermen to fish closer to disputed islands known as Diaoyu in Chinese and Senkaku in Japanese.
Over in Taiwan, China Times says Japan is eager to cool down the islands dispute and "isolate" Beijing, so Taipei "cleverly seized an opportunity" to separate the sovereignty dispute and fishing rights to secure benefits for its fishermen.
Want Daily however points out that Taipei cannot always separate fishing rights and sovereignty and must avoid "complacency" over the islands dispute.
Back on the mainland, Lu Hongzhou, a senior health official in Shanghai, dismisses public and media suspicions that the city covered up or delayed reporting the initial outbreak of the H7N9 bird flu last month, reports Liberation Daily.
A report by Southern Metropolis Daily on Wednesday says Shanghai health officials waited almost one month before submitting samples of the virus to the central government.
It says internet users' posts speculating on the new virus were deleted. The article has been deleted from mainland media websites.
Beijing residents are complaining that the World Health Organisation's H7N9 bird flu updates on its Chinese website are too slow, notes Global Times.
Meanwhile, one of China's most high-profile corruption cases in the last few years has returned to the media spotlight.
Former railways minister Liu Zhijun will face trial after being sacked in 2011 and was charged with bribe-taking and abuse of power on Wednesday, Beijing Times reports.
It flags up concerns that the trial may be biased against Mr Liu and calls for open proceedings to help the public "make an objective judgement".
Southern Metropolis Daily reports that the newly-established National Railway Bureau will keep 130 former railways ministry staff and transfer hundreds of other staff to its commercial arms or local branches by June.
Zhuang Guotai, director of nature and ecology conservation at the Ministry of Environmental Protection, says untreated sewage, rubbish pesticides and excessive fertiliser have destroyed vast tracts of farmland and threaten food sustainability, Oriental Morning Post reveals.
Django Unchained - US director Quentin Tarantino's Oscar-winning Western and first film release in mainland China - has been toned down by censors, disappointing many fans, South China Morning Post reports.