China media: Analysing North Korea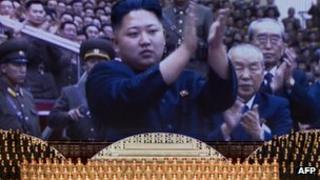 Chinese media is once more preoccupied with North Korea but there is also coverage of plans to demolish an ancient temple.
Violent clashes over tourist entry fees in Hunan province and the cancelled debut of US director Quentin Tarantino's film have also made the papers.
A bilingual Global Times editorial says China is bound to take a tougher line to make North Korea correct its "extreme moves" that have angered the Chinese public, but stresses that it will not side with the US, Japan and South Korea.
"Abandoning North Korea is unlikely to become China's diplomatic choice. But there's no need to hide Chinese society's dissatisfaction with it," the editorial says.
China's defence ministry confirms to Global Times that Japanese and US media reports on the Chinese military deploying troops and tanks in Dandong on the border with North Korea are "not true at all".
Military observer Chen Guangwen criticises the US government for a "Cold War mentality" in distancing itself from retired NBA star Dennis Rodman's "basketball diplomacy" trip to North Korea.
He urges US President Barack Obama to follow Mr Rodman's advice and "pick up the phone quickly" and call North Korean leader Kim Jong-un, and says even a casual chat about basketball will help build trust.
Hong Kong's South China Morning Post says China's influence on North Korea is limited and the US, not China, is ultimately the key player in defusing the crisis on the peninsula.
Fishing controversy
A bilingual editorial in Global Times blasts Taiwan's coast guard chief, Wang Ginn-wang, for stating that mainland trawlers found in waters near disputed islands covered under a Japan-Taiwan fishing deal will be expelled. It says his "ludicrous statement" has "triggered anger from the mainland" and should not be tolerated.
Liberation Army Daily and other party mouthpieces have given top billing to President Xi Jinping's call for the navy to be "prepared for struggle", while inspecting the South China Sea fleet of the People's Liberation Army in Hainan's Sanya.
Jiangsu province and Shanghai reported another five cases of H7N9 on Thursday, while two people infected with bird flu in neighbouring Zhejiang province are recovering, says China Daily.
China's science and health authorities plan to develop a vaccine for H7N9 bird flu within seven months, amid reports that the virus has been detected in ducks in Zhejiang province, the newspaper adds.
Beijing ranks second worst out of 31 mainland cities for air pollution in a survey based on government data by Friends of Nature, a non-governmental green group, The Beijing News reveals.
Lanzhou in north-west Gansu ranked last, while Haikou on southern Hainan island was rated with the cleanest air.
Alipay, China's largest third-party online payment platform, says milk powder is leading its overseas buying due to widespread mistrust of domestic milk powder among consumers, Global Times reports.
Over in Fenghuang in Hunan province, hotel owners, shopkeepers and ferry operators went on strike over a drop in business from fewer tourists after the town began charging a whopping 148 yuan ($24, £15) for visits on Wednesday, Southern Metropolis Daily reports.
Hong Kong's Oriental Daily News says one woman was reportedly beaten up by riot police and several people were detained during violent clashes between the demonstrators and police.
China Central Television reports on growing public anger at plans to demolish part of the Xingjiao temple in Xian where the famous monk Xuan Zang is interred.
Xuan Zang's pilgrimage to India for Buddhist scriptures in the 7th Century was the inspiration for the novel Journey to the West and popular television series Monkey.
Although three towers, including one that houses a relic of Xuan Zang will be preserved, the demolition plan may affect the temple's application for Unesco World Heritage status.
Southern Metropolis Daily on Thursday decries how China's ancient heritage and culture has become a "slave to real estate" and "profit-driven impulses" in many cities.
In a letter to Xuan Zang, Shenzhen's Jing Bao vows to defend the temple against the wrecking ball.
"We will resolutely resist any attempt to turn the World Heritage List into a cash-withdrawal machine and a utilitarian and commercialised castration of cultural memory," the letter says.
There has been a trend in recent years of tourism authorities hiking up prices at Unesco world heritage sites in China.
In Hong Kong, founding chairman of the Democratic Party, Martin Lee, has withdrawn a proposal to allow five candidates to contest the 2017 chief executive elections, Ming Pao reports.
Pro-establishment figures had welcomed the plan, but some pan-democrats condemned it for accepting a "small circle" nominating committee that would be responsible for approving candidates.
Finally, debut screenings of Django Unchained, US film director Quentin Tarantino's Oscar-winning Western and his first film theatrically released in mainland China, were suddenly halted at cinemas for unexplained "technical reasons", Global Times reports.