US and China to set up cyber security working group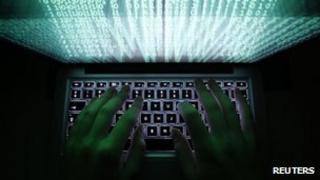 The US and China have agreed to work together on cyber security, US Secretary of State John Kerry has said.
Speaking in Beijing, he said the two countries would set up a working group, and had agreed on the need to speed up action to prevent hacking attacks.
No further details about the working group were given.
In recent months the US and China have traded accusations over cyber attacks on US government computer networks and private companies.
The US says these large-scale attacks have emanated from China, with government and commercial data stolen.
In February one US security firm issued a report accusing a secretive Chinese military unit of being behind many of the attacks.
Earlier this year, both the New York Times and the Wall Street Journal said they were among the companies hit by hackers apparently based in China.
The Chinese government has repeatedly denied being behind the attacks, and itself claims to be a victim of attacks coming from the US.
Cyber security is now regarded as the top security priority in Washington, and the issue is moving to the top of security agendas in other countries.
"The financial sector, banks, financial transactions, every aspect of nations in modern times are affected by the use of cyber networking," Mr Kerry said.
"Obviously all of us - every nation - has an interest in protecting its people, protecting its rights, protecting its infrastructure".