China media: Boston blast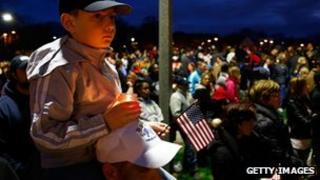 Media in China are shocked at the death of a Chinese student in the Boston marathon bombings and call on the US to end "double standards" on terrorism.
Hong Kong's Phoenix Satellite TV and other media have identified by name a Chinese female graduate student from northeast Shenyang who was killed in Monday's marathon bombings in Boston.
However, Xinhua news agency and China Central Television report that relatives have requested that the deceased not be identified.
While expressing shock and grief, many internet users on Sina and other news portals are baffled at why the victim has remained unnamed, especially since many state media, including Xinhua, have released a photo and identity of the deceased online.
China Central Television says that the deceased person's classmate, Zhou Danling, is now in "stable condition" in hospital after being injured in the blast.
The overwhelming majority of Chinese security experts and state media are calling on the US to step up global counter-terrorism co-operation and stress that China is also a "victim of terrorism".
Li Wei, director of the Institute of Security and Arms Control at China Institutes of Contemporary International Relations, a state security ministry-linked think-tank, tells 21st Century Business Herald that the impact of the Boston bombings will be "no less than 9/11".
He predicts that the US will be forced to "abandon its export of hard-line values" and seek multinational counter-terrorism co-operation within a United Nations framework in places such as Iraq and Afghanistan.
A bilingual Global Times editorial accuses the West of "double standards" in publically shielding groups and leaders deemed to be terrorists by China and Russia.
"We are here to condemn the organisers of the Boston attack. We hope when similar attacks happen in China and Russia, the West will do the same," the editorial concludes.
On Guandian Zhongguo, a state-run commentary website, commentator Feng Chuangzhi accuses the US of having "two faces and two policies" on counter-terrorism and never taking a stand against separatist violence in China's Xinjiang, which is home to many Muslim ethnic minorities.
In other international news, the gay and lesbian community criticises China Central Television and other state media for not mentioning the wife of Iceland's openly gay prime minister Johanna Sigurdardottir in reports of her visit to China, South China Morning Post reports.
Military might
The latest Chinese defence white paper shows greater "military transparency" on the structure of the armed forces as well as the codenames of its missiles, according to state media.
The paper indirectly accuses the US's pivot to Asia and military presence for heightening regional tensions.
It also criticises Japan for "making trouble" over territorial disputes. Japanese media reported that three Chinese maritime surveillance vessels entered waters claimed by Japan on Tuesday, for the first time since 9 April.
Peng Guangqian, a military expert in Beijing, calls the white paper's veiled criticism of US military expansion "polite".
"US military alliances in the Asia-Pacific are the result of the Cold War, and Washington did not end them after the Cold War, but reinforced them. It is an obvious fact, and obviously aimed at China," he tells China Daily.
In other military news, China Central Television and Xinhua report that the South China Sea Fleet patrolled near the disputed islands known as the Diaoyu in China and the Senkaku in Japan on Wednesday, on the anniversary of the signing of the Treaty of Shimonoseki with Japan in 1895.
Taiwan is holding its first live-fire drill in five years as part of the annual Han Kuang military exercises on the outlying Pescadore Islands, Taiwan media report. The exercises will test the armed forces' defences against a simulated attack by the mainland.
Back on the mainland, The Beijing News says China has reported a total of 77 people infected with the H7N9 bird flu, including 16 deaths.
Dahe Daily says authorities are still investigating the sudden deaths of over 200 pigs and 80 dogs that may have been poisoned by toxic gas from a nearby plant on the outskirts of Henan's Luoyang.
In Apple Daily, Zhao Yan, a former New York Times researcher who was once controversially jailed in Beijing, says he is proud of the newspaper winning a Pulitzer Prize for Shanghai bureau chief David Barboza's expose on the alleged fortune of Wen Jiabao's family.
"Our position towards this issue is very clear. We believe the relevant report by the New York Times reporter has ulterior motives," a foreign ministry spokeswoman told a regular press briefing yesterday.
BBC Monitoring reports and analyses news from TV, radio, web and print media around the world. For more reports from BBC Monitoring, click here. You can follow BBC Monitoring on Twitter and Facebook.