Tiananmen group condemns Chinese leader Xi Jinping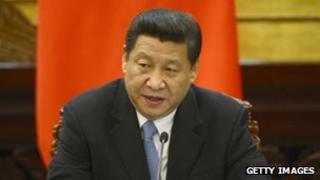 Relatives of victims of the 1989 Tiananmen killings have criticised Chinese President Xi Jinping for failing to initiate political reform.
The open letter, from the Tiananmen Mothers group, came ahead of the 4 June anniversary of the crackdown.
It also came as Mr Xi departed for a tour of Latin America and the Caribbean that will culminate in a summit with US President Barack Obama.
The group accused Mr Xi of "giant steps backwards towards Maoist orthodoxy".
Mr Xi was named Communist Party leader in November 2012 and president in March 2013, replacing Hu Jintao.
'Despair'
The Tiananmen Mothers are a high-profile group of relatives of those who died when the military moved in to end student pro-democracy protests in Beijing.
They want the government to re-examine the events, release information about those who died and compensate relatives.
Since taking power, they wrote, Xi Jinping had not publicly reflected on or held anyone accountable for "sins committed" under past leaders.
Instead, they wrote, he had mixed together "things that were most unpopular and most in need of repudiation" under Mao Zedong and Deng Xiaoping.
"This has caused those individuals who originally harboured hopes in him in carrying out political reform to fall into sudden disappointment and despair," they said.
Since taking power Mr Xi has launched a high-profile campaign against official corruption, but his administration also appears to be intensifying online censorship, closing social media accounts of influential opponents.
Human rights are expected to be on the agenda when Mr Xi and Mr Obama meet on 7 and 8 June in California.
But security issues including North Korea, Syria and the South China Sea are also firmly in the spotlight, as well as cyber espionage and trade rows.