China railways minister tried for corruption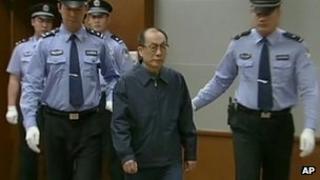 China has held a half-day trial for a former railways minister accused of corruption and abuse of state power.
Liu Zhijun, who held the once-powerful position of Railways Minister, wept during Sunday's trial and asked for leniency, his lawyer said.
Mr Liu is accused of accepting bribes totalling over 64m Chinese yuan ($10m; £6m) over 25 years, state media report.
The verdict will be given at an unspecified later date, Chinese media report.
This is the first high-profile corruption trial since Xi Jinping became president of China in March 2013.
Mr Xi has vowed to crack down on corruption, warning officials against "corruption, taking bribes, [and] being out of touch with the people".
'Malpractice'
Mr Liu was suspended from the Communist Party last May, following allegations that he embezzled funds and received bribes when handing out contracts for China's high-speed rail project.
Prosecutors say he helped 11 people win contracts and promotions in return for bribes.
The indictment against Mr Liu said his "malpractice" led to "huge losses of public assets and damage to the interests of the state and people", according to state-run news agency Xinhua.
Mr Liu's lawyer, Qian Lieyang, said that he had argued for charges to be reduced, as Mr Liu had expressed remorse and argued that around 49m yuan ($8m; £5m) of the amount claimed by the prosecution did not amount to bribery.
"When the court makes a decision on sentencing, I hope it will consider his contributions to the country,'' Mr Qian added.
Mr Liu began his tenure as railways minister in 2003 and led a multi-billion dollar investment programme in the rail network.
He was dismissed from his ministerial post in February 2011 after the authorities launched an investigation into "serious disciplinary violations".
China's high-speed railway network, said to be the largest in the world, has also been plagued with safety scandals involving a series of accidents.
A fatal collision of high speed trains in July 2011 caused a national outcry.
In March, China dissolved the railways ministry in a raft of measures aimed at boosting government efficiency and tackling corruption, placing its functions under the transport ministry.