China media: Cyber-spying claims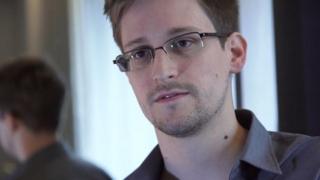 Mainland media rebuke the US over whistleblower Edward Snowden's cyber-spying allegations, while Taiwan newspapers are split on the ruling Kuomintang party's closer ties with Beijing.
Edward Snowden's allegations in his interview with Hong Kong newspaper South China Morning Post on the US government hacking into computers in Hong Kong and mainland China for years have been widely reported on China Central Television and other mainland state-run media.
Global Times says Mr Snowden's whistle-blowing has confirmed speculation that the US is playing up alleged China cyber-spying as a "fig leaf for its own cyber-warfare".
"Before the US government rushes to shut Snowden's mouth, China also needs to seek an explanation from Washington... We are not bystanders. The issue of whether the US as an internet superpower has abused its powers touches on our vital interests directly," it says.
Commentator Tao Duanfang in The Beijing News calls Mr Snowden's act "illegal", but warns that the US gathering of personal data is "close to going out of control".
"This is also probably just the tip of the iceberg... Since the US government and intelligence agencies reject transparency, how can one guarantee that they have not transgressed boundaries?" he asks.
In a commentary titled "Unjustified US intelligence", Beijing's China Daily says cyber-spying on individuals is useless against terrorist attacks such as the Boston marathon bombing in April.
"The Obama administration may want to adjust the boundaries of its counter-terrorism policies so that infringements on individual rights are not as expansive," it concludes.
"The 'Prism programme' leaked by US renegade spy Snowden has torn off the US' glorious mantle as a world-class 'human rights defender' and allowed the international community to witness its other ugly face once again," says Ta Kung Pao, a Beijing-backed Hong Kong daily.
Hong Kong's South China Morning Post says Mr Snowden's whistleblowing has "knocked the wind out of" Washington's allegations of Chinese state-backed cyber-espionage.
"It looks like a case of the pot calling the kettle black, except the pot is a lot darker in this case." Washington owes its own citizens and the world an "explanation as to why such surveillance overkill is necessary", it says
Hong Kong's Apple Daily says the "50 Cent Party" or pro-establishment pundits are trying to use Snowden to justify China's own "abuse of cyber-surveillance".
China-Taiwan ties
The first official contact between the ruling parties of mainland China and Taiwan since Xi Jinping took power as Communist Party of China (CPC) leader in Beijing has been given high-profile coverage in the mainland media.
Yang Lixian, a researcher with the Institute of Taiwan Studies at the Chinese Academy of Social Sciences, a mainland government think-tank, tells Global Times Wu Po-hsiung, honorary chairman of Taiwan's ruling Kuomintang (KMT) party, is likely to ask Beijing to allow Taiwan more room for participating in international affairs.
The two leaders will touch on a possible "political dialogue", but are unlikely to discuss South China Sea territorial disputes with neighbours, the expert adds.
Over in Taiwan, Central Daily News welcomes Mr Ma's call for the two sides of the strait to set up representative offices ahead of Mr Wu's visit.
It says such a move will clear misunderstandings and friction, including Beijing's opposition to blind mainland rights activist Chen Guangcheng visiting Taiwan later this month.
However, Liberty Times berates the opposition Democratic Progressive Party for not "toughening up" and failing to strictly monitor "secret dealings between the CPC and KMT" or stop President Ma Ying-jeou pushing Taiwan "towards danger".
Taipei Times accuses President Ma of "sabotaging" Taiwan's democracy and says "opaque" KMT-CPC talks have "shut out" public oversight and participation.
Both newspapers also believe Mr Ma's view that Taiwan and mainland China do not have "state-to-state relations" will weaken the island's standing as a "sovereign country" in the eyes of Beijing.
Mindful of sensitivities on the island over starting cross-strait political dialogue, China Times reminds Mr Ma that any such dialogue must be "made public and transparent in a timely manner" to avoid antagonising opposition parties and the public.
BBC Monitoring reports and analyses news from TV, radio, web and print media around the world. For more reports from BBC Monitoring, click here. You can follow BBC Monitoring on Twitter and Facebook.