China media: US talks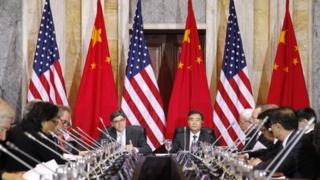 Media criticise the US over export controls, market barriers and cyber-spying amid an annual two-day strategic and economic dialogue in Washington.
The official Xinhua news agency says the recent controversy over Edward Snowden, a whistleblower who exposed US global surveillance operations, "offers an opportunity for the two countries to start serious discussions on co-operating to create rules in the cyberspace".
However, Xinhua also rebukes America's "relentless efforts to make groundless claims against China" on state-backed cyber espionage and stresses that the dispute "shouldn't be hyped into something that would overshadow and obstruct talks on much more important issues between the two nations".
A bilingual editorial in the Global Times says although Beijing should not hype the Snowden case at the dialogue, the Chinese delegation should use it as a tool against Washington's cyber-spying and human rights accusations.
Many state media including the China Daily and Jiefang Daily are citing articles in The Wall Street Journal by Chinese Vice-Premier Wang Yang and in the Washington Post by State Councillor Yang Jiechi listing barriers to market access and high-tech export controls as key irritants in Sino-US relations.
On China Central Television's Financial Review on Wednesday, commentators complained that US mistrust and paranoia about China's economic rise is blocking market access to Chinese firms.
Hong Kong's Ming Pao and South China Morning Post instead highlight US Vice-President Joe Biden's calls to Beijing on stopping "outright theft" of US intellectual property through hacking.
There was no information from either side on whether Mr Snowden's revelations were discussed, the South China Morning Post adds.
Rain disaster
Turning to domestic news, The Beijing News and many other media are reporting an unprecedented number of disasters as the worst rain in almost 90 years wreaks havoc in southwest Sichuan province.
Xinhua and the Guangzhou Daily accuse local authorities of putting public safety at risk after a bridge in Jiangyou, Sichuan, collapsed on Monday after being reinforced only a month ago. Six vehicles plunged into the Panjiang River and at least 12 people are reported missing.
Sohu news portal says the Jiangyou authorities are using flooding as a scapegoat for shoddy safety standards.
The China Youth Daily also notes that no rainstorm warning was issued to step up safety monitoring at the bridge.
The Beijing News exposes how many impoverished and helpless families are forced to cage or chain up mentally ill relatives or send them to asylums to be caged, despite a new law in May banning the restriction of freedom of mental health patients.
The newspaper recounts the plight of Liu Yuegui, an 85-year-old schizophrenic man in Xingtai, Hebei province, who was rescued in 2009 after living in an asylum cage for 10 years. However, his family had to resort to locking him in a cage again after he was sent home for fear that he would become violent.
The Beijing News also reveals oppressive conditions and overcrowding at a mental hospital in Guangxi. An escape by 42 men last Friday triggered public suspicion over whether patients at the facility were petitioners who were not mentally ill.
Bruce Lee controversy
Mainland media, including the Sohu news portal, are abuzz over an unconfirmed tip-off to Hong Kong's South China Morning Post that China may end a 13-year ban on the sale of foreign game consoles as long as foreign firms like Sony, Nintendo and Microsoft make their products in a new free trade zone planned for Shanghai.
The government banned foreign video games to protect youths from unhealthy and violent content, however, many gaming fans already have access to them through black market retail channels and pirate disk shops, the newspaper adds.
The Guangzhou Daily, however, says Sony and other foreign video game producers have yet to confirm long-running rumours that the "games embargo" will be lifted.
The South China Morning Post also reports a controversy over a computer-generated likeness of late Hong Kong martial arts film star Bruce Lee for a mainland advertisement promoting Johnnie Walker Blue Label whisky.
Some fans are offended because Bruce Lee avoided alcohol during his career and the digitally recreated version of him is speaking Mandarin instead of his native Cantonese.
BBC Monitoring reports and analyses news from TV, radio, web and print media around the world. For more reports from BBC Monitoring, click here. You can follow BBC Monitoring on Twitter and Facebook.