China court compensates labour camp mother Tang Hui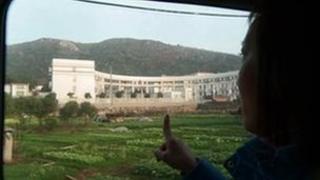 A court has granted compensation to a mother who was sent to a Chinese labour camp after she sought punishment for her daughter's attackers, reports say.
Tang Hui was awarded 2,941 yuan ($479, £317) as compensation for "infringing against her personal freedom" and "causing mental damage", Xinhua said.
She campaigned for harsher punishments for the men who kidnapped and raped her young daughter.
Public outcry followed after Tang Hui spent over a week in a labour camp.
However a spokesman for the court in Changsha, the provincial capital of Hunan province, told Agence-France Presse news agency that it rejected her request that police who sent her to the labour camp write a formal apology.
The spokesman said that the "relevant people had apologised in court".
A lower court in April ruled against the 40-year-old but she appealed, even if she thought at the time that winning was a "remote possibility".
'Thank you all'
Tang Hui's daughter, who was kidnapped in 2006, was raped and forced to work as a prostitute until she was rescued three months later.
Last year, two of her kidnappers were sentenced to death, four were given life sentences and one was jailed for 15 years.
Following the sentences, Tang Hui campaigned for the death penalty for all the men.
She was initially sentenced to 18 months at a labour camp last year for "disturbing social order" and "exerting a negative impact on society" through her protests, Xinhua reported at the time.
But her detention caused an uproar and she was released.
People can be sent to China's re-education through labour camps without any legal process.
China's new leaders, aware the system is deeply unpopular, have indicated they are considering reforming it.
Tang Hui's plight had been publicised through Chinese social media and won her many supporters online.
On Monday, many Chinese microblog users criticised what they saw as a low payout and the lack of a written apology.
"She won the court case but lost out financially - the amount she was awarded isn't even enough to buy a corrupt official's cigar. Poor thing!" user Autumn under the Moonlight wrote on Sina Weibo, a Chinese version of Twitter.
"Using public money to maintain public stability, but without even a written apology. People who won't apologise or take responsibility for wrongs will only allow these incidents to happen more and more!" user Five Year Bamboo wrote.
"Why is there no written apology? When can this government truly care about its people, and no longer trample on their rights?" user Tap Dancing in the Open wrote.
Meanwhile, both Tang Hui and her lawyer, Xu Liping, also used Sina Weibo to spread news of the outcome.
"The request for a written apology was not supported, but all other requests were," Mr Xu wrote on his verified Sina Weibo account.
Tang Hui's microblog post simply read: "Thank you all".