China media: Online speculation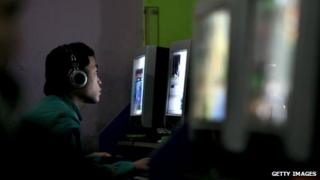 China's official media play down speculation over the lifting of an internet access ban on sensitive foreign websites at a free trade zone in Shanghai.
On Tuesday, unnamed "government sources" tipped off the South China Morning Post on plans for Shanghai's new free trade zone to lift a ban on foreign websites deemed "politically sensitive" by authorities, such as Facebook, Twitter and The New York Times.
While neither confirming nor denying the report, state-run Global Times stresses that the government's inevitable easing of internet restrictions "should be allowed to happen naturally", rather than be pressured by public opinion.
"The firewall's gradual liberalisation in certain sectors should not be a political issue. The Shanghai free trade zone should decide whether to open up Facebook and other popular foreign websites based on actual demand. Public reaction should not be the primary consideration for this decision," the paper says.
The pilot free trade zone in Shanghai will be unveiled on 29 September, Shanghai authorities say.
Meanwhile, some netizens are calling for access to sensitive foreign websites to extend beyond Shanghai's pilot free trade zone.
"Mainland internet users point out that the authorities should lift a nationwide internet ban at an early date to give freedom of information to the people," notes Hong Kong's Oriental Daily News.
Elsewhere, public suspicions of a cover-up have been triggered by the forgery trial of Gong Aiai, an ex-banker who gained international fame as "House Sister" after being accused online of using multiple fake household registration identities or hukou to buy many properties in Beijing and Shaanxi.
At a trial in northern Shaanxi province on Tuesday, Ms Gong said that all her assets and property were gained through legal means and that she had no involvement in forging the hukou.
Under the hukou system, people must be registered in their home town or village and access education, housing and welfare there.
However, many internet users are complaining that the trial omitted details on how Ms Gong managed to acquire the multiple hukou and properties.
'Brother watch'
There was a similar outcry at how the bribery trial of Yang Dacai, a Shaanxi work-safety official nicknamed "Brother Watch", did not touch on his alleged penchant for luxury watches.
"There are many people saying sarcastically on the internet: The trial of 'Brother Watch' did not mention watches, and the trial of 'House Sister' did not mention houses... To dispel misgivings, there no doubt needs to be a more specific and more targeted disclosure of the investigation," comments The Beijing News.
A verdict will be delivered at a later date.
In another closely-watched trial on Tuesday, the Beijing Morning Post says Shanxi businesswoman Ding Yuxin - formerly known as Ding Shumiao - who has been accused of being a secret financier to ex-railways minister Liu Zhijun, pleaded guilty to bribery and illegal business activities.
In other news, internet users are hailing the suspension on Tuesday of a county police chief in Zhangjiachuan in north-west Gansu province. They say it is a victory for their retaliation against county authorities for detaining a 16-year-old boy, who called on netizens to protest the police's handling of a man's death.
Last week, outraged internet users rallied in teenager Yang Hui's defence by accusing the county police chief, Bai Yongqiang, of bribing a former high-ranking local official.
They also accused the county's party chief of wearing "luxury watches" and uploaded photos of the county government's "luxury offices".
Despite denials by authorities of any link between Mr Bai's suspension and Yang Hui's release, the Global Times notes with dismay that netizens are using the two cases to resist controversial new judicial interpretations that could land internet users in jail for online defamation.
"The 'interpretations' have so far failed to overcome some online discontent. Once this mood amasses on microblogs, it will be no small public opinion force... The police chief of Zhangjiachuan has been suspended, and people who oppose the 'interpretations' are cheering online," it says.
BBC Monitoring reports and analyses news from TV, radio, web and print media around the world. For more reports from BBC Monitoring, click here. You can follow BBC Monitoring on Twitter and Facebook.