China media: Setback for US in Asia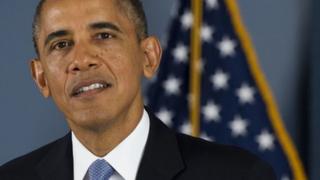 Chinese media see US President Barack Obama's absence from key Asian summits as a setback for Washington's strategic aims in the region.
Mr Obama cancelled visits to Indonesia, Brunei, Malaysia and the Philippines due to a partial shutdown of the US government.
Secretary of State John Kerry is representing the US at the Asia Pacific Economic Co-operation (Apec) meeting in Indonesia. He will also attend the East Asia summit beginning in Brunei on Wednesday.
The Ta Kung Pao says "Chinese President Xi Jinping has become the brightest political star on the stage. In contrast, America has lost an important chance to perform".
"Although the US has expressed multiple times that Obama's absence will not affect its 'Return to Asia' strategy, its Asian allies worry that political instability in the United States can bring about a diplomatic swing, placing themselves in an awkward position," the paper adds.
The Wen Wei Po says "bipartisan games in the US have let the world see the worst of US democracy... and has forced Mr Obama to cancel his Asia-Pacific summit".
"It is clear to other Asia-Pacific countries that America's return (to Asia) strategy has become powerless," the paper adds.
"A man can not be too selfish; a country the same way. If the United States damages the economic and social progress of developing countries for its own country's economic growth, then such quick success can only be harmful to itself," says The Global Times.
The paper adds that "American politics itself often encourages selfishness and immediate success, and the probability that she might go astray along the road of world trade 'reform' is worrying".
Meanwhile, papers are also raising doubts over the feasibility of a potential Trans-Pacific Partnership (TPP) trade agreement.
The TPP is a proposed free trade deal currently being negotiated between Australia, Brunei Darussalam, Canada, Chile, Malaysia, Mexico, New Zealand, Peru, United States, Singapore and Vietnam.
The deal has been championed by the US and does not involve China.
"TPP negotiations without Obama were like an orchestra without a conductor, and the meeting had to end hastily, with half of the 21 negotiating projects failing to reach an agreement," the Ta Kung Pao says.
The Global Times also criticises the US, saying "the process of launching the agreement (TPP) ... has created one of Asia's largest trading uncertainties".
Wedding blues
Turning to domestic news, newspapers are commenting on Chinese tourists' "uncivilised behaviour" abroad after reporting on disturbances caused by them at home during the week-long National Holiday.
Reports have shown Chinese tourist soaking their feet in a fountain outside Louvre Museum in France and having picnics outside the lawn of the Leaning Tower of Pisa in Italy.
The Southern Metropolis Daily says "people exhibit bad behaviour and they do so knowingly, the question we need to ask is why?"
The article says certain Chinese tourists act without consideration towards others because they think their wealth entitles them to do so.
Meanwhile, couples in China are finding it increasingly difficult to get married due to skyrocketing wedding expenses, the Beijing News reports.
The money spent on weddings can sometimes go up to millions of yuan.
"Dowry given to the bride (by the groom or his family) varies in cost, from as low as 6000 yuan (£609; $981) to as high as hundreds of thousands or even two million yuan," the paper adds.
About 43.5% of those who responded to a Bejing News poll agreed that economic pressure was affecting people's wedding plans.
And finally, parents in Hong Kong are infuriated over the lack of school places for their children as an increasing number of mainland students are taking up seats.
The Oriental Daily reports that kindergartens in northern parts of Hong Kong are swamped by mainland Chinese children. The paper criticises the local government for its inadequate supervision and the absence of policies to ensure local children get places in schools.
BBC Monitoring reports and analyses news from TV, radio, web and print media around the world. For more reports from BBC Monitoring, click here. You can follow BBC Monitoring on Twitter and Facebook.