China media: Abe criticised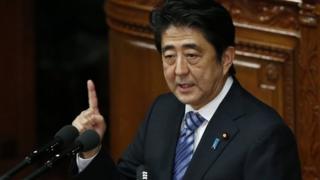 Papers criticise Japanese PM Shinzo Abe for sending a ritual offering to the controversial Yasukuni shrine in Tokyo.
Mr Abe made an offering to mark the Yasukuni Shrine's autumn festival on Thursday. The shrine honours Japanese war dead, including 14 convicted Class-A war criminals from World War II.
Japan's neighbours consider the shrine a symbol of Tokyo's past military aggression.
Reports say repeated visits to the shrine by Japanese cabinet ministers and lawmakers are a major obstacle to bilateral ties.
A People's Daily commentary rebukes Mr Abe's offering, while Hong Kong newspaper Ta Kung Pao refers to the Japanese right-wing forces as "demons" being "abnormally excited about worshipping ghosts".
Whatever the form, paying homage there "seriously hurts the feelings of the people of Asian countries, and is an open challenge to existing international order," the People's Daily adds.
The Ta Kung Pao says "as long as Mr Abe does not express deep remorse over Japan's long history of aggression, relations with neighbouring countries could never improve".
Yang Dongliang, an expert on Japanese studies and head of the College of History at Nankai University in Tianjin, told The China Daily that the shrine visits were made with "deliberate ignorance of China's reactions".
"The move [of paying homage] partly stems from a prevailing mentality within Japan that Japan was defeated by the United States and not China," Mr Yang said.
Meanwhile, state media continue to discuss the potential impact of the US debt crisis on China.
The US Congress passed a bill to reopen the government and temporarily raise the federal debt limit with hours to spare before the nation risked default on Thursday.
Xinhua news agency says "passing a transient bill was no more than prolonging the fuse of the US debt bomb one inch longer".
"Politicians in Washington have done nothing substantial but postponed once again the final bankruptcy of global confidence in the US financial system and the intactness of dollar investment, which has already been seriously shattered by the undying partisan struggle," it adds
The Global Times says China has every reason to feel anxious as the single largest foreign creditor of the US.
"China and the US are interdependent in terms of economic development. Any problem in the US debt will likely bring a catastrophe to its economy and volatility to the world economy," it adds.
Pollution control
Turning to domestic news, China has shut down nearly 200 companies for spreading pollution.
"The capital is tightening up on operating licenses for projects that fail energy conservation standards and environmental assessments. As of the end of September, the capital had weeded out 184 polluting enterprises as part of its clean-air action plan," the China Daily reports.
Beijing recently introduced a "pollution emergency plan", which includes a ban on manufacturing enterprises that cause heavy pollution and a more stringent vehicle ban on the road, The Beijing News reports.
"Some 80% of public vehicles and half of private cars will be banned from Beijing's roads on days of continuous and serious air pollution, the city government said on Thursday," the China Daily adds.
Meanwhile, Xinhua reports that the Chinese government has confirmed that Nanjing Mayor Ji Jianye is being investigated for alleged serious violation of discipline related to "economic crimes".
Hong Kong's Ming Pao says the mayor "is the latest official to fall in a series of actions taken by the [Chinese Communist Party's] Central Discipline Inspection Commission" as part of an anti-graft campaign launched by President Xi Jinping.
BBC Monitoring reports and analyses news from TV, radio, web and print media around the world. For more reports from BBC Monitoring, click here. You can follow BBC Monitoring on Twitter and Facebook.