China media: Trade with Russia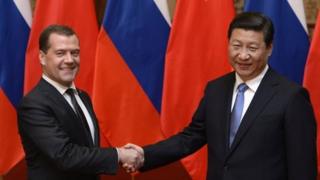 State media and experts hail the strengthening of economic ties between China and Russia, as Prime Minister Dmitry Medvedev met President Xi Jinping and Premier Li Keqiang in Beijing on Tuesday to sign a raft of deals.
Xinhua news agency reports that Sino-Russian relations have reached new heights, driven by a massive boost in business co-operation.
"While trade reached a record high of $88bn (£54bn) in 2012, the two countries plan to raise the volume to $100bn by 2015 and $200bn by 2020," it reports.
Tang Hua, an official with China's National Development and Reform Commission, told Xinhua that in the first seven months of this year, direct foreign investment by Chinese companies in Russia rose by $250m.
"Over an eight-year period ending in 2012, direct foreign investment by Chinese companies in Russia increased 40 times to reach S4.9bn," Mr Tang added.
The China Daily reports that Russia has agreed to supply an additional 10 million metric tons of crude oil to China annually over the next decade.
Xing Guangcheng, a researcher of Russian studies at the Chinese Academy of Social Sciences, told the paper that "oil and gas imports from Russia should be China's first choice as Russia is a major energy exporter and is closer to China".
"It is widely agreed that there is a lot of potential in the two countries' energy co-operation," Mr Xing said.
The People's Daily reports that Xi Jinping has urged both nations to "continue to strengthen the comprehensive strategic co-operation, to safeguard the authority of the UN and its Security Council, to adhere to the aims and principles of the UN charter, and to defend recognised norms governing international relations".
Meanwhile, the City Council of Manila has passed a resolution "granting authority to Mayor Joseph Estrada to personally apologise to Hong Kong for the 2010 bus hostage crisis", the Global Times reports.
Eight Hong Kong tourists were killed in Manila during a bus siege in 2010. Their families are seeking an official apology and compensation from the Philippine government.
However, the Beijing Times says "the apology is made by the Manila mayor and cannot be regarded as an apology on behalf of the Philippine government".
Property prices
Turning to domestic news, the Global Times says sky-rocketing property prices have the potential to destabilise Chinese society.
"The National Bureau of Statistics released property prices of 70 major cities in September. The figures showed that apart from Wenzhou, 69 cities experienced continuing house price increases, of which Beijing took the lead with a rise of 20.6% compared with the previous year," it says.
"High property prices in large cities including Beijing, Shanghai and Guangzhou have gradually turned into a political issue, and whether the prices will see a soft landing is not only pertinent to economic sustainability, but also impacts social stability in China," the paper adds.
The daily adds that soaring property prices could also lead to a "meltdown".
"It is obvious that continuing price hikes in first-tier cities will create a bubble that will burst sooner or later. Dramatic price increases in China's real estate market have caused a great deal of pain for a certain number of people but a meltdown in the property realm will bring more calamitous consequences to the overall economy," the paper said.
And finally, a People's Daily investigation has found over 150,000 cases of bribery have been registered in the last five years.
It reports that between January 2008 and August 2013, the number of corruption and bribery investigations stands at 151,350 cases involving 198, 781 people.
BBC Monitoring reports and analyses news from TV, radio, web and print media around the world. For more reports from BBC Monitoring, click here. You can follow BBC Monitoring on Twitter and Facebook.