China media: US spying row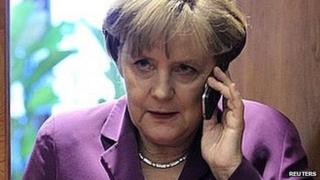 China's state media question the US government's credibility as a row over spying claims escalates in Europe.
Germany on Wednesday summoned the US ambassador in Berlin over claims that the US monitored German Chancellor Angela Merkel's mobile phone.
This came after Le Monde newspaper had reported that the US National Security Agency (NSA) had spied on millions of French phone calls.
The Global Times says "the phone-tapping scandal in Europe once again demonstrated disorder and injustice in the current world order. As the 'big brother' of the world, the US is very selfish and self-centred, casting aside all morality for its own interests".
"Edward Snowdon's disclosure of the Prism incident gave the world a chance to see the US from another point of view, and allowed Western European countries to reassess the true meaning of being a US 'ally'," it adds.
Meanwhile, The China Daily worries over the reach of the NSA. "Countries like China and Russia, who may fall in the category of American 'rivals', can only imagine the extent of US eavesdropping," it says.
The paper also criticises US President Barack Obama.
"Four months back in Berlin, President Obama told Germans that Washington was not spying on ordinary citizens. Now, he is responding to their chancellor about the alleged tapping of her cell phone by the United States," the paper adds.
The People's Daily says the recent row has severely dented Washington's credibility.
"From Europe to Latin America, from traditional allies to partners, from conversations between heads of states to logs of daily meetings… the US' extensive spying programmes overseas have deepened doubts of the international community over the credibility of the US government," it says.
The Xinhua news agency says "if these (spying) allegations are true, Washington would face a serious diplomatic challenge which could affect a series of issues ranging from economy to security".
Harsher punishment
Turning to domestic news, China has released new guidelines that prescribe harsher punishments for child sex offenders.
The Global Times reports that under the new law "people who have special duties with children, such as teachers, and have sex with girls under the age of 14, regardless of whether the act is consensual or not, will be charged with rape, and is punishable by at least 10 years in prison and even death".
"Against a background of growing child sexual assaults, the newly unveiled guideline has drawn wide discussions following a strong appeal for the abolition of the crime of soliciting underage prostitutes, which carries a sentence of five to 15 years in prison and was widely considered as a law that may help offenders avoid harsher penalties," it adds.
Xinhua news agency reports that "Chinese authorities released a guideline on the handling of sex offenses against minors on Thursday, promising severe penalties and minimum tolerance following many recent incidents".
The news agency recounts several high-profile cases that recently shocked the nation.
Chu Zhaohui, a researcher with the National Institute of Education Sciences, tells Xinhua that "China still needs to improve co-ordination for handling sex assault cases, noting that some cases were even left unreported, concealed or trivialised. Psychological counselling for victims should also be enhanced".
And finally, the 2013 China Hercules Open started in Xiangyang City, in central China's Hubei Province, on Wednesday, Xinhua reports.
Flexing bulging muscles, contestants pulled off herculean feats ranging from flipping over giant tyres to pulling enormous trucks at the event, it adds.
BBC Monitoring reports and analyses news from TV, radio, web and print media around the world. For more reports from BBC Monitoring, click here. You can follow BBC Monitoring on Twitter and Facebook.