China media: Sun Yang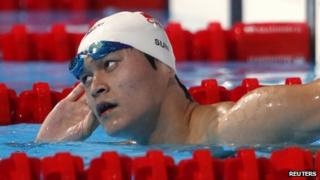 The detention of Olympic swimming champion Sun Yang has triggered a media debate on China's state-led sports system.
Sun Yang was ordered on Monday to be kept in detention for a week and also fined 2,000 yuan (£205; $328) for driving without a licence, the official Xinhua News Agency reported.
The athlete wrote on his Sina Weibo microblog account that he had been driving a relative's Porsche SUV when it was hit by a bus on Sunday in his hometown, the eastern city of Hangzhou.
Many media, however, are incredulous at Sun Yang's explanation that he had a "weak knowledge of the law" because he was usually busy with training and competing.
"Sun Yang could not have been unaware that one must have a licence to drive... Now that he has been 'caught' this time, he must accept the appropriate punishment and stop repeating the same mistakes," says Xinhua.
Other media believe that a netizens' backlash against the popular swimmer may reflect a deeper public discontent over the privileges of officials, celebrities and tu hao, or the "boorish rich".
"What concerns the public most are the legal penalties for Sun Yang. The outcome of Sun's punishment has a bearing on whether the law can be applied equally in China - Can the special privileges possessed by celebrities interfere with judicial independence?" asks the Beijing Times.
The media are also raising eyebrows at why Sun Yang's family, managers or the police did not stop him from driving repeatedly without a licence.
"God will forgive young people for making mistakes, but what is unforgiveable is that his parents, leaders and the whole of society have repeatedly left him room to make mistakes," says The Mirror.
Bai Yansong, a famous presenter on China Central Television, notes with irony that Sun Yang has endorsed a car for South Korean auto giant Hyundai despite having no driving licence.
However, he says the country's state-driven sports system needs to do a better job of managing and serving superstar athletes like Sun Yang.
The China Youth Daily says young athletes like Sun Yang are often trained to serve purely as "gold medal machines" without adequate education.
"'Striving for glory for the country' as the highest mission of Chinese competitive sports was never as utilitarian and profit-seeking as now... Sun Yang himself is certainly not the only one who truly needs to take stock and assume responsibility."
US editorial
Meanwhile, netizens on Sohu, Global Times and other news portals are mocking another Olympic hero, Liu Xiang, for dressing in a Red Army uniform.
He was photographed with the Chinese national track team on Sunday at a motivational meeting vowing to strive hard for victory at the 2016 Rio de Janeiro Olympic games in Jinggangshan, a former revolutionary base in a mountainous area of central Jiangxi province.
Liu Xiang won China's first Olympic gold medal in a men's track and field event for the 110m hurdles at the 2004 Athens games. However, he has been plagued by injury that prevented him from winning at the most recent two Olympics.
"It is in keeping with Red Army tradition - running fast," Hong Kong's South China Morning Post quotes one netizen as saying in reference to the Red Army's Long March during the civil war with the Kuomintang between 1934 and 1936.
Turning to international news, official media and experts are dismissive of a US Wall Street Journal editorial calling on the US to take Japan's side against China's "bullying" in a long-running territorial dispute over East China Sea islands known as the Diaoyu in China and the Senkaku in Japan.
The China Daily, however, says the office of the US secretary of defence told Chinese media in a written reply on Friday that Washington's neutral position encouraging a peaceful resolution of the dispute is "longstanding" and has not changed.
And finally, The Beijing News questions whether authorities in Yueyang, Hunan province, are trying to use a higher compensation offer to silence relatives and thwart an investigation into the abduction and kidnapping of three children by their uncle in a recent extortion attempt.
Only yesterday, media reported that the families had rejected an offer of 20,000 yuan (£2,000; $3,280) for each child. They accused the school and local authorities of negligence in handling the children's disappearance. But now they have reportedly accepted an offer of 100,000 yuan.
BBC Monitoring reports and analyses news from TV, radio, web and print media around the world. For more reports from BBC Monitoring, click here. You can follow BBC Monitoring on Twitter and Facebook.