China media: Journalistic standards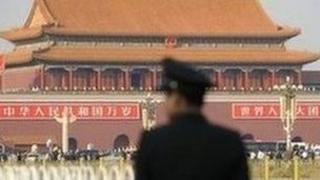 International Journalists Day leads to soul-searching in Chinese media on the controversial detention of investigative reporter Chen Yongzhou on defamation charges.
Many media outlets are reflecting on the case of Chen Yongzhou, a reporter of the Guangdong-based newspaper New Express, who was detained last month on suspicion of "harming the commercial reputation" of a leading construction equipment firm.
Mr Chen was shown recently on national television admitting accepting money to publish negative reports on the financial affairs of Zoomlion, which caused the company's shares to plummet.
The Global Times calls for a clean-up of the media with stricter state regulation in the wake of the arrest of Mr Chen.
He remains in detention and has not commented independently on the case.
"Admittedly, the industry is mired in some problems. Society now assumes that it has been a rule that journalists do fixed interviews and take bribes. The media's credibility is ebbing. The relevant authorities should co-operate to cultivate more qualified media outlets rather than blindly blaming or manipulating the media for their own interests," it says.
But as China Youth Daily commentator Feng Xuemei notes, Mr Chen's detention has also stirred controversy because it came in the wake of detentions and libel lawsuit threats against other investigative journalists.
"When Chen Yongzhou was initially taken away by police, I understood the anger of colleagues... After all, there have been instances of reporters being beaten and detained," Ms Feng writes.
The Beijing News also strikes a sombre tone on the difficulties facing journalists and the media industry as a whole amid declining revenues.
"This year's Journalists' Day is unlike in any in previous years. We have experienced a crisis of public confidence in the media and many media are also facing a survival crisis of declining advertising and declining distribution," it says.
Meanwhile, another whistle-blowing journalist Luo Changping, the deputy editor of the Beijing-based business magazine Caijing, will be the first mainland Chinese citizen to win the Integrity Award in Berlin on Friday.
The prize honours efforts to combat corruption and is handed out by the global governance watchdog Transparency International.
Mr Luo was accused of slander last December when he made online allegations of corruption against Liu Tienan, the deputy head of China's top planning agency, the National Development and Reform Commission. The Commission initially dismissed Mr Luo's reports as "rumours", but Mr Liu has since been dismissed from his post and is under investigation.
"The position real investigative journalism is in is not ideal. The environment is getting worse, the space is getting smaller... If the support for in-depth investigation by news outlets is shrinking, I hope that non-profit investigative reporting can develop more quickly," he tells Hong Kong's South China Morning Post .
In other-media related news, some state newspapers are criticising international news organisations for not being fair in their coverage of a jeep explosion in Beijing's Tiananmen Square on 28 October.
The Chinese authorities say the explosion was as a "terrorist attack" by separatists fighting for independence in northwest Xinjiang, which is home to a Muslim Uighur minority.
The BBC, CNN and other foreign media report that exiled Uighur groups accuse Beijing of using "terrorism" as a pretext to repress the Uighur community.
"China does not expect all the Western media to stand on China's side. However, any political bias cannot be tolerated in the face of humanity's common cardinal issues of right and wrong. We advise CNN and BBC: Open your sleep-feigning eyes now," the People's Daily says.
Xinhua News Agency criticises the US Department of State for not calling the jeep blast an act of terrorism.
"The US' refusal to acknowledge it as a terrorist attack laid in plain sight a double standard on terrorism," the agency comments.
Pollution woes
In other domestic news, state media reflects on severe pollution across major cities in China, especially in the north.
"Pollution in China seems to have become a notorious issue worldwide. If one looks for the word 'pollution' on Google, he or she would find China's name thrown up most. Some media outlets have also headlined China's air pollution as a matter of 'life and death'," says the Global Times.
The China Daily complains that when the northeastern city Harbin was shrouded in smog a week ago, visibility was down to about 10m and gauze masks were a necessity for local residents.
"Never have we been so shocked by the smog... With urbanisation becoming a major driver of economic growth, decision-makers need to consider carefully the environmental impacts when making their development decisions," it adds.
BBC Monitoring reports and analyses news from TV, radio, web and print media around the world. For more reports from BBC Monitoring, click here. You can follow BBC Monitoring on Twitter and Facebook.