China media: US ambassador Gary Locke's legacy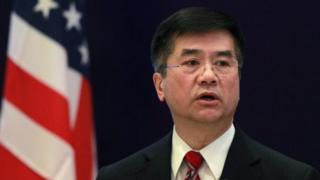 Media are analysing Gary Locke's turbulent career and assessing his popularity as the US ambassador to China following his announcement that he will step down soon.
Mr Locke's announcement that he will resign from his post early in 2014 to rejoin his family in Seattle has prompted many Chinese newspapers to recall his humble and frugal approach as well as several diplomatic crises during his tenure.
He received a lot of praise from Chinese netizens, especially for his humility and eschewing of perks and privileges, during his stint.
Reports of him flying economy class and turning down five-star hotels while on official duties went down well with the Chinese public fed up with constant tales of corruption and extravagance among their own officials.
"Although some people have criticised Gary Locke for putting on a 'show', a lot of Chinese people still like him," says The Beijing News.
Hong Kong's Sing Tao Daily says mainland officials should reflect upon the popularity Mr Locke gained for his humble approach.
"He did not engage in an ostentatious style. He has won a lot of 'fans' in China, which forms a stark contrast to the extravagant style of some mainland officials," it says
The Global Times, however, reminds the Chinese media and public that Gary Locke is just a "normal" US politician serving Washington's interests, despite his Chinese ethnicity.
"When Gary Locke arrived, his ethnic Chinese identity and face brought a sense of familiarity to a lot of people, and these people could not help treating this US ambassador as a 'Chinese'. However, Locke soon showed his steadfastness and loyalty to US national interests and his ethnic Chinese origins did not have any influence on this," it says.
The newspaper points out how Gary Locke was embroiled in many controversies during his tenure, such as the US embassy in Beijing giving refuge to Chinese dissident Chen Guangcheng and monitoring air pollution in the capital.
Under Gary Locke's watch, former Chongqing police chief Wang Lijun also tried to defect to the US consulate in Chengdu, which ultimately led to the downfall of Chongqing party boss Bo Xilai, the paper says.
In other news, central government cyber experts are stepping up surveillance on ethnic minorities such as Tibetans and Uighurs in Xinjiang with a new technology that can track communications in the languages of the country's diverse ethnic groups.
Hong Kong's South China Morning Post says the new system can monitor voice calls, text sent via the internet and even communications embedded in images or graphics to alert them to "possible social unrest".
Pollution experiment
Meanwhile, China Youth Daily says public fears over air pollution are still lingering after mainland media showed photos in October of a laboratory rat's lungs that turned black within six days during an air pollution test.
Earlier this week, Song Weimin, a health professor with Shanghai's Fudan University who carried out the test, as well as other health experts, dismissed such media reports as being "exaggerated".
Prof Song says the rat was injected with doses of PM2.5 particles (airborne particles measuring less than 2.5 microns in diameter) directly into its lungs over the course of six days to test the efficacy of cough medicine.
He and the other experts stress that the density of PM2.5 in the experiment was far higher than humans would encounter.
However, other mainland media reports say that ozone and particulate matters have worsened air quality in the southern Pearl River Delta region in October, making it the most polluted area in the country, and triggering fears further south in neighbouring Hong Kong.
Finally, The Beijing News, the Xiandai Jinbao and other newspapers are calling on acclaimed film director Zhang Yimou to make a public statement on online allegations that he violated the country's one-child policy by fathering seven children with four women.
The director won international acclaim for creating the opening and closing ceremonies of the 2008 Summer Olympics in Beijing.
He has not made a public statement about the allegations and is currently directing his latest film, Return, in Beijing and Tianjin.
The media are also baffled at why family planning authorities in the central city of Wuxi have been unable to contact the 62-year-old director and his wife Chen Ting, who is from the city, since the allegations surfaced in May.
"If things drag on like this, this may not matter to Zhang, but the family planning departments cannot afford to procrastinate... The public's fury will only be unleashed at family planning departments," says the Qianjiang Evening News.
BBC Monitoring reports and analyses news from TV, radio, web and print media around the world. For more reports from BBC Monitoring, click here. You can follow BBC Monitoring on Twitter and Facebook.