China media: Judicial reforms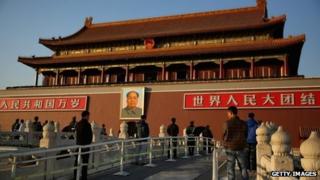 The media welcome calls by China's Supreme Court to end the torture of suspects in detention, as well as local governments' interference in court cases.
The state media have welcomed the new guideline of the Supreme People's Court, which calls for judicial reforms and abolishing the practice of extracting evidence by torture.
The Global Times recalls public outcry over a case in 2010 when Zhao Zuohai, a villager from Henan province, spent 10 years in prison for allegedly murdering a man.
However, the man said to have been murdered by Mr Zhao was found alive 12 years after he was sentenced.
Three former police officers were subsequently arrested for allegedly torturing Mr Zhao into confessing to a crime that never happened.
Defendants are traditionally presumed guilty rather than innocent, even though the legal concept of presumption of innocence was written into law in the 1990s.
Meanwhile, The Beijing News revisits the case of Zhang Gaoping and Zhang Hui, an uncle and a nephew from Zhejiang province, who were wrongfully convicted of raping and murdering a girl in 2003. Zhang was only released in March after serving 10 years in jail.
Zhang Gaoping was tortured in police custody. Local police still convicted him and his nephew despite obtaining DNA evidence pointing to another suspect, the paper adds.
"Judges must have the courage to take up legal arms. In the face of pressure from administrative officials, senior judicial officials, petitioners as well as 'stability maintenance' by localities, they must truly adhere to a presumption of innocence and adhere to independent adjudication, so as to prevent miscarriages of justice," The Beijing New stresses.
The Beijing Times says the use of torture can only be stamped out by allowing lawyers to be present during police interrogations and for such sessions to be recorded by video.
"The judicial system needs a fundamental restructuring to ensure legal independence, not vague and moderate guidelines. Nothing can be changed as long as the same group of judicial officials remain in power," Si Weijiang, a lawyer in Zhejiang, tells Hong Kong's South China Morning Post.
China's stealth drone
Turning to international news, the Global Times hits back at an annual report submitted to the US Congress by the US-China Economic and Security Review Commission, a body that advises US lawmakers on China policy.
The US report warns of China's growing capabilities to strike US bases, ships and aircraft throughout Asia-Pacific, including areas it could not previously reach, such as the US Pacific territory of Guam.
It also calls for Washington to slap sanctions on Beijing for waging an alleged "cyber-espionage" campaign against the US government and businesses.
"The People's Liberation Army should quickly possess the capability to curb the US military's ability to intervene as it wishes in the Western Pacific. China also needs to have a strategic retaliatory capability to directly deter the US on native soil," counters the newspaper.
Meanwhile, the Qianjiang Evening News says China's first jet-powered stealth drone, Lijian or Sharp Sword, successfully completed its first test flight on Thursday, according to photos posted on military forums.
Military experts tell the South China Morning Post that the unmanned combat aerial vehicle (UCAV) will help China to strengthen intelligence-gathering in the East and South China seas, where Beijing has ongoing territorial disputes with Asian neighbours.
And finally, staff at a hospital in Hefei, Anhui province, are under heavy public criticism after a month-old baby boy started crying just before his cremation at a funeral parlour on Wednesday.
The infant, who has a congenital abnormality and other life-threatening illnesses, had been given up by his parents at the hospital and declared dead on Monday. The hospital sent the boy for cremation on Wednesday.
Doctors are now trying to save the boy back at the hospital, says China Daily.
The Yangtse Evening News says the hospital staff deserve to be criticised, but stresses that the public should not exacerbate a growing trend of "doctor-patient conflicts" by pointing a finger at the entire medical community.
In October, a patient unhappy with the results of an operation stabbed three doctors at a hospital in Wenling in Zhejiang. One doctor later died from his injuries, which sparked mass protests by staff at the hospital calling for their safety to be protected.
BBC Monitoring reports and analyses news from TV, radio, web and print media around the world. For more reports from BBC Monitoring, click here. You can follow BBC Monitoring on Twitter and Facebook.