Big fees for Communist Party 'jargon-busting' courses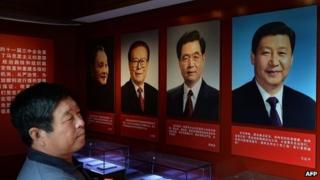 Universities in China are charging hefty fees for courses that help participants understand Communist Party jargon, state media has reported.
Consultants are reported to be charging at least $1,500 for the courses, which help students gain a better understanding of party language.
News of the courses emerged after the party's closed-door gathering took place last week in Beijing.
The plenum set the tone for China's development over the next decade.
Large-scale reforms
Universities, think tanks and other organisations are promoting the courses to "interpret the spirit" of the plenum, the Shanghai Morning Post reported on Friday.
The trainers are mostly former high-ranking officials and senior government researchers who come from powerful decision-making bodies, the paper said.
Some are believed to be from the National Development and Research Commission, China's premier economic planning agency.
Course organisers have stipulated that the courses are primarily for party and government officials and managers of state-owned enterprises.
But they are also open to anyone who pays, the Shanghai Morning Post reported.
The plenum in Beijing was the third time its most senior officials have gathered in the city since Xi Jinping became the Communist Party's general secretary a year ago.
The third plenum is regarded by many as one of the most important dates in the calendar because the Communist Party often uses the occasion to launch large-scale reforms.
It introduced important changes to China's one child policy, labour camps and the direction of the market economy.
But correspondents say that one thing that has not changed is the oblique language used by officials to inform the outside world about the meeting's outcome.
This sometimes leads to confusion in key policy areas such as the reform of state-owned enterprises, especially when party pronouncements often contain old-styled communist party jargon, such as the phrase "socialism with Chinese characteristics".
It is not known whether the courses are sanctioned by the party.
Many people have applied to attend one of the courses offered by Beijing University, the Shanghai Morning Post reported.