China media: Regional tensions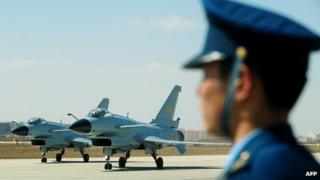 The maiden voyage of the Liaoning, China's first aircraft carrier, to the South China Sea has coincided with rising tensions with the US and Japan over a new air defence perimeter declared by Beijing in the East China Sea, which includes disputed waters.
Chinese newspapers are linking the aircraft carrier's drill with the escalating tensions.
"The US, Japan and other countries will probably harass China's construction of aircraft carriers from different angles and may even mislead our own knowledge and understanding of aircraft carriers," says the Global Times.
Meanwhile, US media reports on two US B-52 bombers challenging China's air zone by entering the area without prior permission from Beijing are featuring prominently on many mainland Chinese news portals.
The Communist Party's People's Net website carries a screenshot of a Wall Street Journal report on the B-52s entering China's newly-declared defence perimeter.
Sina news portal is broadcasting a US Cable News Network video clip on the bombers entering the air zone.
Shi Yinhong, an international relations professor at the Renmin University and an adviser to the State Council, China's cabinet, says Beijing did not consult Washington, Tokyo or Seoul beforehand on the air zone.
"They would have all opposed it. If we then decided to go ahead, it would have been worse," he tells Hong Kong's South China Morning Post.
However, Prof Shi points out that China is unlikely to create another air defence zone in the South China Sea where it has territorial disputes with Vietnam and the Philippines.
Maj-Gen Qiao Liang, a professor at the National Defence University, tells the Beijing Times that China could shoot down aircraft that do not heed warnings about entering China's air zone without prior permission.
Despite tensions, Xinhua says China, South Korea and Japan on Tuesday kicked off their third round of talks on forming a trilateral free trade area, with fields like intellectual property and goods and services to be covered.
Gang rape verdict
In domestic news, Sina says the teenage son of prominent military singers has lost his appeal against a 10-year prison sentence for alleged gang rape.
A court in Beijing on Wednesday upheld its original verdict in September against Li Guanfeng (formerly known as Li Tianyi), 17, who was among five men who allegedly gang-raped a woman in a Beijing hotel last February.
The trial has been watched closely for any signs of leniency because of the teenager's powerful family ties.
Many members of the public have demanded harsher punishment for the young Li amid growing discontent over the children of the rich and powerful who are seen as spoiled, arrogant and above the law.
From today until 24 December, the mainland Chinese public will be voting in a government-sponsored poll on three "golden week" statutory holiday options aimed at relieving travel and tourism chaos next year, The Beijing News reports.
Many mainlanders have been unhappy with a switch several years ago to traditional one-day holidays like the Dragon Boat Festival because they don't have enough time to travel back to their hometowns or go overseas.
The South China Morning Post, however, says many netizens want the mandatory holiday system scrapped in favour of flexible annual leave.
Elsewhere, college students in western Xinjiang, which is home to an ethnic Uighur Muslim minority, will not graduate unless their political views are approved, says the Global Times. Teachers could also be affected by being demoted.
The move is aimed at curbing the infiltration of the "three evil forces" of separatism, terrorism and religious extremism into campuses, local university academics tell the Xinjiang Daily.
The Chinese authorities blame cases of deadly inter-ethnic violence on terrorism. However, Uighur exiles say Beijing is using terrorism as a pretext to clamp down on the rights of ethnic minorities in Xinjiang.
BBC Monitoring reports and analyses news from TV, radio, web and print media around the world. For more reports from BBC Monitoring, click here. You can follow BBC Monitoring on Twitter and Facebook.