China media: Tensions over air zone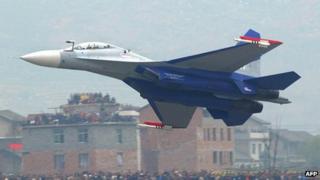 International controversy over a newly-declared Air Defence Identification Zone continues to dominate the Chinese media following reports that Japan and South Korea flew planes over the area on Thursday without notifying China. Earlier this week, the US sent two B-52 bombers over the zone.
China also sent several combat aircraft to patrol the area on Thursday.
The Global Times plays down the entry of US B-52s into the zone and brushes off concerns raised by the governments of the US, South Korea and Australia about the zone.
Instead, China's air force should prepare for possible "friction or confrontation at close range" with Japanese military planes if they enter China's air zone without prior notification, it stresses.
The newspaper believes that such friction will spur Japan to negotiate a communication system with China on both countries' air zones and even for disputed islands known as Diaoyu in China and Senkaku in Japan.
The islands are under Japan's control and Tokyo has rejected the existence of any sovereignty dispute with China.
Despite apparent support for the zone among the mainland public, Hong Kong's South China Morning Post says some internet users suspect that it may be aimed at "distracting attention from domestic problems". Some also believe that Beijing "reacted too softly" after the entry of US bombers into the zone.
In response, Zhu Feng, a professor of international relations at Peking University, stresses to the Global Times that Beijing's response is "not as weak as" internet users say.
He says netizens may look at the conflict "without thinking about the possible consequences if China acts more aggressively".
Hong Kong's Apple Daily mocks the Chinese military for making "no response at all" to the "show of force" by Japan and South Korea when their planes entered the new zone.
The newspaper's website features a video clip of Chinese President Xi Jinping with a paper tiger mask standing over a map of the air zone.
Xinjiang security
In other international news, both the domestic and overseas editions of the Communist Party's People's Daily say Beijing stands vindicated after a group called the "Turkestan Islamic Party" (or East Turkestan Islamic Movement) recently released a video claiming responsibility for a jeep explosion in Beijing's Tiananmen Square on 28 October that killed five people and injured dozens.
The group also threatened to carry out further attacks on landmarks such as the Great Hall of the People, where the Communist Party holds many of its high-level meetings, according to the Search for International Terrorist Entities Institute (SITE), a US website which monitors jihadist forums.
The newspapers accuse US broadcaster CNN and other Western media of "double standards" for posting analyses by experts that questioned Beijing's initial claims that the blast was a "terrorist" attack by extremist groups fighting for independence for Xinjiang, a remote western region that is home to an ethnic Uighur Muslim minority.
The commentaries also accuse the US government of sidestepping the issue of whether the incident was a terrorist attack after the State Department said it was "monitoring" the situation.
Meanwhile, local media in Xinjiang are continuing a propaganda offensive against unnamed "religious extremists" recruiting Muslims in the region to engage in "terrorism".
One local official warns in the Urumqi Evening News that such "extremists" are ordering Muslims to boycott sermons by pro-establishment clerics and to "disobey the government by not using marriage certificates or identity cards".
The Global Times says more and more Uighur women in Xinjiang are wearing the burqa or the chador, sparking a "Project Beauty" campaign by the government to stop women wearing veils.
Information from Xinjiang is tightly controlled and difficult to verify independently.
Uighur exiles dismiss claims of terrorism and separatism as an excuse by Beijing to justify religious and security restrictions.
Meanwhile, a public outcry has been triggered after a petitioner from central Henan stabbed to death a man allegedly hired by authorities to intercept him while he was on his way to Beijing to seek justice in a housing demolition dispute.
The Southern Weekend says Gong Jinjun, 57, stabbed one of eight "interceptors" who were forcibly taking him and other captured petitioners back to his hometown of Hebi. He also injured another interceptor with a knife.
The interceptor was reportedly a "grassroots youth earning a mere 200 yuan (£20; $32)" for each interception mission, a petitioner told the newspaper.
BBC Monitoring reports and analyses news from TV, radio, web and print media around the world. For more reports from BBC Monitoring, click here. You can follow BBC Monitoring on Twitter and Facebook.