China media: Moon mission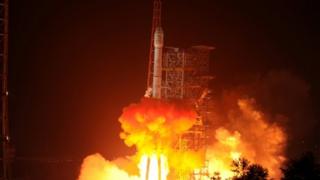 The launch of China's first moon landing probe reignites a debate on whether developing countries should fund space programmes.
The successful launch of the Chang'e-3 moon rover mission at 01:30 Monday local time (17:30 GMT Sunday) has topped the headlines across many newspapers, news portals and TV stations.
Papers are defending the lunar mission's massive expense.
The Global Times argues that China is not trying to engage in a "Cold War" lunar exploration contest and says China will lose competitiveness if it remains backward in space technology.
"China's internet often has a dispute that it is 'better to replace space flight with poverty relief', but the nature of such voices is entirely of a bubble-like nature. China's policy-makers need to avoid being subject to their interference... Chinese society should give more support to lunar exploration and other cutting-edge science activities," it says.
The Wen Wei Po, a Beijing-backed Hong Kong newspaper, emphasises the military advantages of the lunar mission.
"The moon has become a focal point of competition for strategic resources among space powers... Faced with a grim situation, China can neither stand by and watch nor ignore this, and it must have lunar exploration capability to safeguard its legitimate rights and interests," it says.
In international news, the Communist Party newspaper China Youth Daily criticises The Economist magazine's article which saw China's declaration of a controversial air zone over the East China Sea as the act of a "teenager on a growth spurt who doesn't know his own strength".
Many official media outlets such as the Liberation Army Daily, the Global Times and the People's Daily Overseas Edition are also calling on Japan to recognise the terms of the Cairo Declaration, 70 years after it was issued by the US, Britain and China on 1 December 1943.
The declaration stipulated that Japan should restore all the territories "stolen" from China, including Taiwan and its affiliated islands, including disputed islands known as the Diaoyu in China and the Senkaku in Japan.
Cameron's visit
Meanwhile, the state-run China News Service says David Cameron has now amassed more than 146,000 followers since setting up his account on Sina Weibo, China's Twitter-like service, on the eve of his visit to China from Monday to Wednesday.
A Downing Street spokesman confirmed to AFP that the account, which has since posted six messages, is genuine.
Meanwhile, most state media and think-tank experts are expecting Mr Cameron's visit to put China-UK political relations "back on a normal track" after he angered Beijing by meeting the exiled Tibetan spiritual leader, the Dalai Lama, in 2012.
"However, there are reproaches (in the UK) over Mr Cameron's China visit, with some criticising Mr Cameron for downgrading human rights to chase economic interests. His opponents urged Mr Cameron to raise human rights, especially the Tibet question, and 'act like a statesman, not a salesman'", notes the Global Times.
The Chinese Ambassador to the UK, Liu Xiaoming, tells the state-run news agency China News Service that the main problem between China and the UK is still a "lack of political mutual trust".
"There are some people in British society who are still unable to get rid of a 'Cold War mentality' and who look at China with 'coloured glasses'," he is quoted as saying.
Following World Aids Day on Sunday, the Southern Metropolis Daily and many other newspapers are calling for an end to social prejudice and workplace discrimination against people with HIV or Aids as levels of infections double among young people.
Statistics show as of September, 434,000 people were detected with HIV/Aids, with nearly 90% of new infections involving sexual transmission, The Beijing News reports.
The mainland media, however, have remained silent on foreign media reports of authorities in Beijing detaining Aids activists who staged protests outside government ministries in the run up to World Aids Day.
Since 2010, children with Aids or HIV as well as those who have lost a parent to the virus are entitled to 600 yuan (£60; $98) a month. Most families haven't received any money, advocates tell Hong Kong's South China Morning Post.
BBC Monitoring reports and analyses news from TV, radio, web and print media around the world. For more reports from BBC Monitoring, click here. You can follow BBC Monitoring on Twitter and Facebook.