China media: Joe Biden in Asia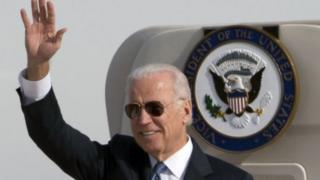 Chinese media link regional tensions with US Vice-President Joe Biden's Beijing visit, while experts discuss the "dismissal" of North Korean leader Kim Jong-un's uncle from his post.
State media outlets are calling on the US to refrain from supporting Japan in an ongoing row over Beijing's controversial new Air Defence Identification Zone (ADIZ) in the East China Sea.
While in Tokyo, Mr Biden said he was "deeply concerned" by the zone and urged Japan and China to set up a communication system to deal with any crisis.
The Ta Kung Pao and other Communist Party-backed newspapers are highlighting how Mr Biden failed to meet Japan's expectations and "refused" to issue any joint statement calling on China to revoke the controversial ADIZ.
"The Japanese government and media have been bent on exploring the issue of China's Air Defence Identification Zone with Biden, in the hope of getting specific pledges, but besides stressing the consistent position of the US, Biden's statement was relatively vague on the whole," notes the Global Times.
In a strongly-worded commentary, the official Xinhua News Agency urges the US to rein in the Japanese government from going too far in antagonising neighbours over wartime history and territorial disputes.
"A wise and far-sighted Washington should choose to play a constructive role in the region to stop indulging Japan's recklessness in exchange for a mess of pottage, and to persuade the island nation not to go too far," it says.
Powerful uncle
Meanwhile, South Korean intelligence reports say Chang Song-taek, uncle of leader Kim Jong-un, has been removed from his post as vice-chairman of the National Defence Commission.
Mr Chang's fate is one of the top stories on many news websites despite apparent censorship in the Chinese-language media on commenting on sensitive political news from North Korea.
The Global Times notes that analysts are divided on the causes of Mr Chang's dismissal since there has been no confirmation from Pyongyang.
Yang Mian, a professor of international relations at the Communication University of China in Beijing, tells the newspaper that it is too early to conclude that Mr Chang's public absence is due to differences with his nephew.
"For such a powerful figure as Mr Chang, it is hard to draw such a conclusion as there may be other situations happening, for instance, Mr Chang could be sick, which Pyongyang usually does not spread to the media," Prof Yang adds.
However, Zhang Liangui, an expert on North Korean issues at the Communist Party's school, says Mr Chang may have been ousted in a power struggle.
"There may be some division between Mr Chang and the military on the country's path of either developing nuclear weapons or advancing the economy, and Kim Jong-un has to make a choice," he tells the paper.
In other news, Beijing has denied targeting the Bloomberg news organisation by barring its reporter Robert Hutton from an event involving UK Prime Minister David Cameron and Chinese Premier Li Keqiang on Monday, Hong Kong's Ming Pao reports.
Bloomberg's website has been blocked in the mainland since it reported last year on the alleged wealth of Chinese President Xi Jinping's family, the newspapers add.
In Hong Kong, the Ming Pao and the Oriental Daily News are warning of "loopholes" in the city's defences against bird flu.
Seventeen people are in isolation and more than 200 are under observation after coming into contact with an Indonesian domestic helper, who is the first person in the city to have caught the deadly H7N9 strain of bird flu, reports say.
BBC Monitoring reports and analyses news from TV, radio, web and print media around the world. For more reports from BBC Monitoring, click here. You can follow BBC Monitoring on Twitter and Facebook.