China media: North Korea ties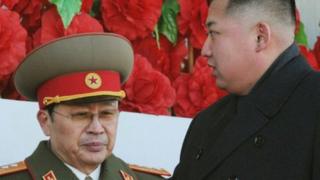 The purge of Chang Song-thaek, who was considered the second most powerful leader in North Korea, is featuring prominently on many Chinese news portals.
The Global Times seeks to play down the impact of Mr Chang's purge and urges China and North Korea to pave the way for Kim Jong-un to visit Beijing "as soon as possible".
The newspaper also rebukes Chinese internet users for criticising Beijing's aid to North Korea.
"Some people are cursing North Korea as an anger vent to make oblique accusations at China... People who believe that China should bear 'moral responsibility' for North Korea's internal problems are either ignorant or fanatical universalists," it says.
Chinese think-tank experts generally see Mr Chang's ouster as a prelude to a bigger power struggle among the North Korean hierarchy, but mostly remain confident that relations with Beijing will not be seriously affected.
Xinhua's former veteran Pyongyang correspondent Gao Haorong says Mr Chang placed a lot of his supporters in key military, government and party positions and an ensuing power struggle could destabilise North Korea.
"Young leader Kim Jong-un and his supporting forces have won a temporary victory in this struggle, but this fight is still not over... Purging 'dissidents', while also maintaining political stability, will be a severe test of Kim Jong-un's wisdom and strategy," says Mr Gao.
In an interview with the Global Times, Zhang Liangui, a North Korea expert at the Chinese Communist Party's central party school, acknowledges that Mr Chang's economic co-operation initiatives with China may have been seen by "nationalistic" North Koreans as a cheap sell out of the country's resources. However, he sees little chance of Mr Chang's fall reversing these policies.
'GDP heroes'
Elsewhere, economists at the state-run Chinese Academy of Social Sciences think-tank are predicting a 7.7% GDP growth rate for the Chinese economy this year and a lower forecast of 7.5% GDP growth in 2014, the China Business News reports.
In contrast, the government's National Development and Reform Commission foresees a 7.8% GDP growth rate in 2014, adds the Economic Daily.
Economists from both organisations warn of even greater downward pressure on domestic growth in 2014 caused by weak consumer demand, overcapacity in major industries, rising labour costs and chronic local government debt.
Meanwhile, The Beijing News says "GDP heroes" are on their way out after the Communist Party announced plans to scrap appraisals of local cadres and government agencies based mostly on GDP rankings.
A tie-up between officials' promotions and impressive GDP figures has been blamed for exacerbating pollution and corruption for many years.
And finally, some official media are being lampooned for trying to put a positive spin on chronic smog that enveloped much of central and eastern China over the weekend.
State broadcaster China Central Television said the smog has made "people more united, more equal, more sober-minded, more humorous and more knowledgeable".
A Global Times commentary, now missing from the newspaper's website, has analysed the benefits of smog from a military perspective, believing that smog can thwart missile attacks and hamper hostile reconnaissance.
The Beijing News derides this upbeat take on chronic pollution as an "Ah Q" mentality.
Ah Q was an ignorant character in a 1921 novel by Chinese writer Lu Xun who was famous for self-deceptively turning defeats into "spiritual victories".
"When I am in Beijing's haze and in the process of acting as a human vacuum cleaner, I will have an unprecedented sense of security," quips a commentator in the Southern Metropolis Daily.
BBC Monitoring reports and analyses news from TV, radio, web and print media around the world. For more reports from BBC Monitoring, click here. You can follow BBC Monitoring on Twitter and Facebook.