China media: Execution of North Korean leader's uncle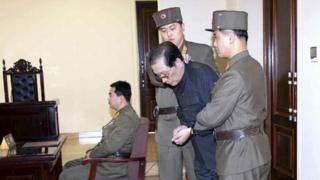 The execution of North Korean leader Kim Jong-un's uncle creates a stir in the Chinese media as one official mouthpiece calls his ouster a "wake-up call" for Beijing.
Xinhua News Agency and other state media are mostly highlighting the salacious details of the Korean Central News Agency's account of Chang Song-thaek's alleged misdeeds, including womanising, gambling and taking drugs.
A commentary in the Ta Kung Pao, a Beijing-backed Hong Kong daily, calls the execution a "wake-up call" to China on its lack of real influence over North Korea as well as the dangers of instability across its border.
"The cruelty shown by North Korea's power struggle goes beyond one's imagination... This incident reveals that China's influence on the internal affairs of North Korea is close to zero," the newspaper says.
It adds that that "the wake-up call that the 'Chang Song-thaek incident' has given China is that the possibility of instability in North Korea is far bigger and far more dangerous than South Korea".
However, in mainland China, comment is confined mostly to English-language media outlets where experts are stressing continuity in ties between Beijing and Pyongyang.
Chinese experts tell the Global Times that unconfirmed international media reports of economic deals signed this week between China and North Korea amidst the ouster of Mr Chang are an indication that bilateral relations will not be affected by recent turmoil.
Jiang Longfan, a North Korea expert at Yanbian University, says Pyongyang showed its commitment to economic ties with China by reportedly discussing the construction of a high-speed railway and parallel motorway connecting the North Korean border town of Sinuiju to the capital Pyongyang as well as Kaesong on Sunday - the same day it purged Mr Chang.
Unconfirmed details of the purported railway link were first revealed by South Korean legislator Hong Ik-pyo during a seminar at the National Assembly.
And one day after Mr Chang's purge, North Korea reportedly signed a deal with the Chinese border city of Tumen to develop a special economic zone in its coastal border province of North Hamgyong, South Korea's JoongAng Daily reported.
Jin Hualin, an expert on North Korea at Yanbian University, says North Korea wants to develop the zone into a high-class foreign tourists' resort with a golf course, swimming pool and horse racing.
However, neither Beijing nor Pyongyang have officially confirmed the two economic deals yet.
Nanjing commemoration
As memorials take place across China on Friday to mourn the victims of the Japanese army's capture of the former capital Nanjing in 1937 during World War II, state media have also used the day to criticise Japan over territorial disputes and its defence policy.
The Global Times tells Japan to "stop dreaming" if it hopes to lobby members of the Association of South-east Asian Nations against China's newly unveiled Air Defence Identification Zone at a Japan-Asean summit in Tokyo from 13 to 15 December.
The Wen Wei Po, a Beijing-backed Hong Kong daily, calls on Tokyo to end its "tricks" after the Japanese foreign ministry released a video in nine languages, including Chinese, on its territorial claims to disputed East China Sea islands known as the Senkaku in Japan and the Diaoyu in China.
Elsewhere, the survivors and families of those who died in a bus hostage-taking siege in Manila in 2010 are protesting to the Hong Kong government after the Philippine government only used the word "sorrow" instead of an "apology" in response to the incident, the Global Times reports.
The Standard says Manila is reportedly willing to offer compensation for eight Hong Kong citizens who were killed on the tourist bus hijacked by a Philippine policeman.
Another two demands from Hong Kong- that negligent Philippine officials be punished and tourist safety safeguarded - have been agreed, the newspaper adds.
And finally, The Beijing News says the capital will ban firework and firecracker celebrations during the one-week Lunar New Year holiday, which begins on 31 January in 2014, if heavy smog returns.
City authorities will also promote the sale of "environmentally friendly" sulphur-free fireworks, which give off less smoke and they will be sold at a slightly higher price than normal ones.
The fireworks industry has already been dealt a blow after the Communist Party ordered officials not to splash out public funds on fireworks and firecrackers during the holidays.
BBC Monitoring reports and analyses news from TV, radio, web and print media around the world. For more reports from BBC Monitoring, click here. You can follow BBC Monitoring on Twitter and Facebook.