China media: Run Run Shaw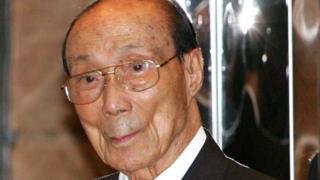 The death of entertainment tycoon and philanthropist Run Run Shaw leads to soul-searching over the decline of Hong Kong's media industry.
Newspapers across China are devoting front-page spreads and editorials to Mr Shaw, affectionately known as Uncle Six, who died at his home aged 107 on Tuesday.
The Beijing News and other mainland newspapers are mostly expressing gratitude for the massive donations that he made to the education and medical sectors nationwide. Across China, many school and university buildings bear his name.
However his death is also seen as the end of an era for Hong Kong's media and entertainment industry.
Guangzhou's Southern Metropolis Daily says the retirement of "Uncle Six" as founder and major shareholder of Television Broadcasts (TVB), Hong Kong's first free television station, marked a gradual decline in the local entertainment industry over the years.
"Even the flourishing TVB is held in disdain by some citizens because of its monopoly market and lack of new ideas creatively," it says.
Hong Kong's Ming Pao believes the city's entertainment business is still in decline because of a lack of creativity or real competition since the Shaw era.
"In the last 10 years, Hong Kong's performing arts entertainment industry has not only lost its leading position in the region, but has also become a 'dumping ground' for the performing arts entertainment of other countries and regions," it muses.
Hong Kong's Apple Daily links the death of Run Run Shaw with Hong Kong media "falling into enemy hands" of the ruling Chinese Communist Party since the handover - a trend that it equates with Nazis setting up concentration camps in World War II.
The newspaper believes that TVB has already become "CCTVB", a satellite broadcaster of the mainland's state-run China Central Television (CCTV).
The announced replacement of Ming Pao's editor-in-chief by a Malaysian journalist on Tuesday is also seen by the Apple Daily as orchestrated by the "black hand" of the Communist Party.
Ming Pao's newsroom staff have issued a statement to express shock and to demand an explanation from management for the reshuffle.
"A giant (Shaw) has left, ending an era of freedom missed by the people; a black hand has stretched out, starting an era of stifled freedom and declining creativity. Dachau may have been a long time ago, but the successive fall of the Hong Kong media are all recent events," says veteran commentator Lee Yee in the Apple's editorial.
Press freedom
In other news, activists and a lawyer were detained in the southern city of Guangzhou on the first anniversary of a rare press freedom protest by the Southern Weekend (also known as Southern Weekly) newspaper.
On 7 January 2013, Southern Weekend staff went on strike in protest over the paper's pro-reform New Year editorial being axed by the ruling Chinese Communist Party's propaganda department.
The original editorial had called for the authorities to implement China's constitution and for political reform, but staff accused a provincial propaganda official of rewriting it as a tribute to the Communist Party.
Hong Kong's South China Morning Post says Guangzhou civil rights lawyer Liu Shihui, who is representing protesters detained last year for supporting the strike, was held at a police station in Guangzhou on Sunday.
Two of the demonstrators who took part in the protests last year are expected to go on trial soon on charges of "gathering a crowd to disrupt public order''.
In international news, Japanese Prime Minister Shinzo Abe is again the target of a massive wave of official media condemnation for leading his country towards "militarism".
Commentaries in the domestic and overseas editions of the People's Daily, a Communist Party mouthpiece, accuse Mr Abe of threatening world peace by paying a visit last month to Yasukuni, a shrine that honours Japan's war dead, including convicted war criminals. Mr Abe has stressed that the visit to the shrine was a message of peace.
Xinhua News Agency says Mr Abe will "fall off the precipice like a horse that has galloped wildly for too long unless he is reined in".
BBC Monitoring reports and analyses news from TV, radio, web and print media around the world. For more reports from BBC Monitoring, click here. You can follow BBC Monitoring on Twitter and Facebook.