China media: Pension reforms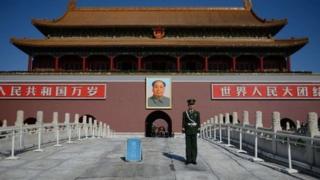 China's proposed pensions reforms are triggering heated media debate about social equality.
Xinhua news agency says a proposal by the Communist Party to reform the pension scheme for China's civil servants in government and public institutions is dividing public opinion.
The proposed reforms come amid public dissatisfaction that civil servants do not pay into the country's pension pool but enjoy higher payments after retirement than state enterprise workers and farmers due to different schemes.
However, a proposed change to end the two-track system and tally officials' pensions with other workers' schemes is triggering disquiet among grassroots public servants, the agency adds.
Earlier this week, the People's Daily and the Global Times argued that an indiscriminate "one-size-fits-all" pension scheme to address the current imbalance may be unfair to civil servants who earn lower salaries than businesspeople in the private sector.
Shen Bin, a commentator at Shanghai's Oriental Morning Post, hits back at the papers by stressing that the Communist Party's charter pledges to only uphold the interests of the working class and the masses, and to hold no special privileges.
The Southern Metropolis Daily believes that China's civil servants should get higher incomes and secure pensions.
However, it says the salaries of officials should be more transparent to ease public concerns. It also stresses that the civil service should not become bloated at the expense of tax payers.
In other news, the media are cautiously welcoming the environment ministry's stricter targets for all provinces to tackle worsening smog by reducing air pollution by 10 to 25% by 2017.
The State Council, China's cabinet, will check progress annually and officials who fail to meet targets will be "named and shamed", reports the Global Times.
The Guangzhou Daily recalls how many local governments have already failed to meet promised targets on building affordable housing and controlling house prices that ended up skyrocketing last year.
'Cool reception'
And once again, Japanese Prime Minister Shinzo Abe is in the firing line of official media for his December visit to the Yasukuni Shrine, which honours Japan's war dead, including some convicted war criminals.
A guest commentary in the Communist Party's People's Daily urges the US not to be "indifferent towards Abe's provocations". The newspaper's overseas edition says Russia "should not tolerate Abe running wild".
The People's Daily overseas edition also criticises US academic Jennifer Lind's recent article on CNN pointing out that unlike joint remembrances of World War II by the Poles and Germans, China, Japan and South Korea have all sought to remember the war in antagonistic ways.
Elsewhere, the China News Service and other mainland media are reporting that the Chinese Embassy in Spain on Monday sent a letter of protest to Spanish television network Telecinco, after the network aired a comedy skit deemed "insulting to Chinese".
After failing to buy The New York Times, Chinese recycling tycoon Chen Guangbiao tells the Global Times that he is now trying to buy The Wall Street Journal (WSJ) as well as a US news website.
And finally, following North Korean leader Kim Jong-un's birthday celebrations on Wednesday, the website of Hong Kong's pro-Beijing newspaper Ta Kung Pao says close ties between China and North Korea are "far inferior to the past".
It notes that Chinese President Xi Jinping gave a "cool reception" to Kim Jong-un's birthday by apparently not sending a present or a high-level official to Pyongyang. President Xi sent a birthday cake to Russian President Putin back in October.
The North Korean government did not send a birthday invitation to Beijing either, according to the newspaper.
BBC Monitoring reports and analyses news from TV, radio, web and print media around the world. For more reports from BBC Monitoring, click here. You can follow BBC Monitoring on Twitter and Facebook.