China media: Population growth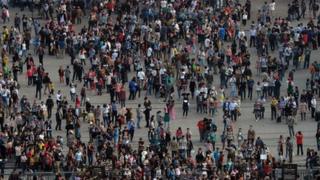 Concerns over Beijing's growing population, a suspended death penalty for a baby-trafficking doctor and press freedom fears in Hong Kong are key stories in Thursday's papers.
"A series of social problems such as population growth, traffic congestion, environmental degradation, a shortage of housing, employment difficulties and other 'urban diseases' have added to the burdens of the city," notes The Beijing News.
Since 2000, Beijing's permanent population has increased by an average of nearly 600,000 every year to reach over 20 million by the end of 2012. This figure goes far beyond a target set 10 years ago to keep the population at 18 million by 2020.
The population of Beijing is about 2.6 times that of London and 2.5 times that of New York.
The media are also giving prominent coverage to a suspended death sentence given to a doctor from north-western Shaanxi province for stealing newborn babies and selling them to child traffickers.
Zhang Shuxia pleaded guilty in December to stealing seven newborn babies and selling them to an underground human trafficking ring. She has been sentenced to death, with a two-year reprieve.
The Xinhua news agency reports that Zhang Shuxia, 55, an obstetrician at the Fuping County Maternal and Child Hospital, had earlier confessed to persuading couples to give up their newborns between 2011 and 2013 by convincing them that the babies had complex health problems.
In other news, the People's Liberation Army have been ordered to only buy domestically-made vehicles to enforce frugality and stamp out a trend of military officials buying luxury foreign vehicles, the Beijing Times reports.
A circular issued on Monday also bans the military from splashing out public funds on private banquets and giving or accepting cash, securities and souvenirs.
Press freedom
Over in Hong Kong, 90 academics from 11 institutions issued a joint statement on Monday raising concerns about press freedom in the city, the South China Morning Post reports.
Newsroom staff at the Ming Pao earlier issued a statement expressing shock and demanding an explanation from the newspaper's parent group over a decision to move the chief editor, Kevin Lau Chun-to, to another post within the company.
"We do not see what is happening in Ming Pao today as an isolated incident. The Ming Pao incident is a warning bell that press freedom in Hong Kong is under threat," the Post quotes Yuen Chan, a lecturer at the Chinese University, as saying.
Also on Monday, representatives from a staff concern group held a four-and-a-half-hour meeting with the newspaper's parent group, the Ming Pao reports.
The Ming Pao says the media group and the staff reached an agreement that the new chief editor would safeguard freedom of speech and that staff would respect the parent group's right to appoint the new editor.
But management rejected demands that the new editor should be trusted by newsroom staff and be familiar with the city.
A former editor of the group's Malaysian newspaper, Nanyang Siang Pau, is tipped to be the successor, although a final decision has yet to be made.
Meanwhile, Martin Lee Chu-ming, founding chairman of the Democratic Party, has submitted a blank column in the Ming Pao in protest at the editor's sudden replacement.
The column's headline says, "Black hands cover the sun and moon, this newspaper suddenly loses light."
A composite Chinese character for the sun and moon form the Cantonese word "bright" or "ming" in Ming Pao's title.
"Beijing hopes to control the hearts of the people by controlling the media and it began doing so as early as before the handover [of Hong Kong to Chinese rule in 1997]," warns another Ming Pao columnist, Ng Chi-sum.
And finally, schools in Wutai county in northern Shaanxi province face an investigation by provincial education authorities for holding traditional "xietu" rites on campus to give thanks to the Earth God, with teachers burning paper-made ingots in a fire.
Wutai county is the home of the sacred Buddhist pilgrimage site of Mt Wutai, and the "xietu" ritual has been listed as an intangible cultural heritage.
However, a columnist at The Beijing News believes that teachers should not propagate "feudal superstition" by holding the ceremony on campus.
"Not only schools, even government departments have held such 'rites' on site, and such behaviour will directly harm the student's minds and lead their education astray," adds another commentator at Sichuan Online.
BBC Monitoring reports and analyses news from TV, radio, web and print media around the world. For more reports from BBC Monitoring, click here. You can follow BBC Monitoring on Twitter and Facebook.