China media: Ukraine lessons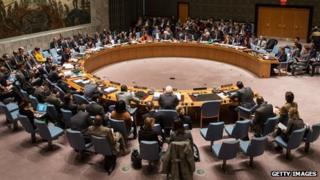 Newspapers are trying to draw lessons from the Ukraine crisis and assess President Xi Jinping's forthcoming trip to Europe.
They continue to report on the aftermath of the referendum in Crimea in which the territory voted to break away from Ukraine.
Recalling that China had abstained in a vote on a UN Security Council resolution that described the referendum as illegal, Feng Shaolei, an expert on Russia affairs, tells Hong Kong-based pro-Beijing Ta Kung Pao daily that a "referendum to determine a territorial status is a very sensitive issue for China". This is why Beijing "is very cautious when dealing with Crimea", he explains.
The People's Daily Overseas edition comments that international sanctions might hurt Russia's economy but the West would also feel their impact.
"The most dangerous opponents of the West are usually their most important trade partners… the sanctions will also have a big impact on Western economies and right now there is no sign that they are ready for this," warns the paper.
China Daily lashes out at the West for its "hypocrisy" and "double standards", saying that it has "committed worse aggression against other countries".
"Whatever one thinks of Russia's action in Crimea, it has not led to any deaths, at least not yet. Compare this with the hundreds of thousands or millions who have died and suffered from past and present wars waged by the US and other Western countries," the newspaper exclaims.
Describing Russia and the West as "two huge monsters roaring at each other", the Chinese edition of the Global Times urges Beijing to mediate between the two sides.
"Once the confrontation between the West and Russia spirals out of control, China might suffer… Many countries will change their strategies and China will have to make new strategic decisions for its development as the external environment will not stay the same," it warns.
Meeting Obama
Meanwhile, President Xi Jinping will make his first trip to Europe as head of state on Saturday, according to local media.
He will take part in the nuclear security summit in The Hague in the Netherlands, and meet US President Barack Obama on the sidelines.
Media are speculating that the Ukraine crisis will be one of the main topics of discussion.
The Liberation Daily recalls that Mr Xi and Mr Obama have already discussed Ukraine in a phone conversation earlier this month.
The daily adds that Mr Xi's visit to the Netherlands, and his subsequent tour of France, Germany and Belgium, will "inject new energy" in the China-Europe relationship as he is expected to sign several agreements for co-operation in manufacturing, finance, energy and on cultural exchanges.
Commenting on his trip, the China Internet Information Centre, a government news portal, calls for mutual understanding and respect between Europe and China.
It describes Europe as one that is "in decline", "complex and friendly", but also filled with "political arrogance" that is hindering progress in China-Europe relations.
"The 'Europe-style arrogance' will hurt ties between China and Europe in the long term. In recent years, four sensitive issues have appeared - human rights, the Dalai Lama, arms embargo and trade friction…Europe is earnestly hoping to enjoy the economic benefits of China's reforms but is still entangled in its old way of thinking," says the website.
Corruption watch
In other news, the Central Commission for Discipline Inspection (CCDI), the Communist Party's graft watchdog, has opened three new offices that will handle anti-corruption "discipline inspections" and oversee the work of the discipline officers themselves.
According to the Beijing Youth Daily, the offices will monitor finance sectors and government-owned enterprises.
Zhu Lijia, a professor at the Chinese Academy of Governance, tells China Business News that corruption has become more "professional", which means that the CCDI needs specialised skills to deal with new threats.
And finally, three kindergartens are accused of administering antiviral drugs to children to ensure that they don't miss school.
The Xinhua news agency comments that the incidents expose a lack of supervision in the private pre-school education system.
BBC Monitoring reports and analyses news from TV, radio, web and print media around the world. For more reports from BBC Monitoring, click here. You can follow BBC Monitoring on Twitter and Facebook.