China media: US defence ties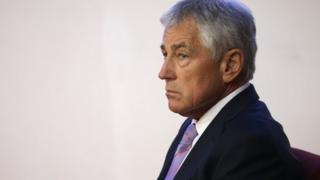 Media voice unhappiness about military ties between Washington and Beijing after US Defence Secretary Chuck Hagel met his Chinese counterpart, Chang Wanquan, on Tuesday.
Both men reportedly aired their differences over issues including territorial disputes between Beijing and its neighbours.
Fan Changlong, the vice-chairman of China's Central Military Commission, lashed out at Mr Hagel at a press conference, saying China was "dissatisfied" with his remarks made in Japan.
In Tokyo, Mr Hagel addressed regional territorial disputes, saying Chinese authorities should have "respect for their neighbours".
The Chinese edition of the Global Times praises General Fan for his straightforwardness, noting that the Chinese defence ministry published his statement.
"It is rare that the Chinese military has exhibited differences with the US in a straightforward manner… this change reflects the confidence of China's military.
"We are not stirring up trouble, nor are we afraid of trouble; this is China's basic attitude towards the complex frictions in the region," it points out.
Echoing similar sentiments, an article in the Beijing Times criticises the US for "playing little tricks that are meaningless and useless". It calls for better communication as the "best strategic option for the US".
"Although the US defence secretary made remarks that irked China, both countries have reached some consensus. Strengthening communication and preventing misjudgement, these are what the countries are mutually hoping for," it adds.
Meanwhile, experts also criticise the US over a bill passed by the US House of Representatives to authorise the sale of four Perry-class guided missile frigates to Taiwan during Mr Hagel's visit to China.
"This has a very negative impact on Sino-US military relations," Yao Yunzhu, an expert on China-US defence relations from Academy of Military Sciences, tells the Xinhua News agency, adding that the arms sale violates the one-China policy.
Zhu Chenghu, a professor at National Defence University, points out that Mr Hagel's visit should have helped China to promote regional peace.
"But instead he has been sending very wrong signals by making such remarks in Japan and encouraging some countries to act irresponsibly… If the US does not hold its responsibility, there will never be peace in the region," he adds.
'Journalism disease'
Moving on to other news, media analyse the Ukraine crisis as unrest escalates in the eastern part of the country, sparking fears from the US and EU of Russian intervention.
Tension rose at the weekend when pro-Russia activists seized regional government buildings in Donetsk, Luhansk and Kharkiv in the east of Ukraine. They barricaded themselves in and raised the Russian flag.
Kiev and the US accuse Moscow of fomenting unrest in the mainly Russian-speaking east of the country as a pretext to possibly seizing more territory - a claim strongly refuted by Russia.
The Haiwai website describes the worsening situation as "a struggle for interests without the need of any diplomatic rhetoric".
"If the different political forces in Ukraine could not find a solution immediately and are only dreaming of the 'grace' of new life bestowed by big countries, it will become a living sacrifice in the new round of geo-political dog-fighting," it warns.
The Global Times comments that "no single force has been able to dictate the Ukraine situation up till now" and cautions China not to take sides.
"Beijing should be more cautious about the issue of Ukraine's eastern region, observing strict neutrality… Moscow has displayed its strong stance despite being weaker than the West. This is not an indication of a powerful Russia but a West of limited strength," it adds.
And finally, media welcome the campaign to crack down on "news extortion" and "fake news" after authorities vowed to root out the "journalism disease".
According to the Xinhua News Agency, some con artists have been faking identities as "state-media journalists" and extorting money from business owners as well as government officials, in return for stories or covering up "problems".
In another report, Xinhua says the recent campaign is "welcomed by all".
"Extortion and fake news seriously damage the image of the news industry and disrupt the production and life of the officials and the public," it adds.
BBC Monitoring reports and analyses news from TV, radio, web and print media around the world. For more reports from BBC Monitoring, click here. You can follow BBC Monitoring on Twitter and Facebook.