China media: Weibo diplomacy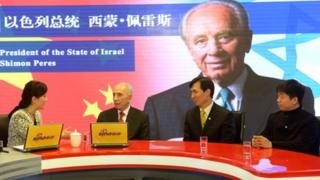 Papers discuss social media diplomacy as Israeli President Shimon Peres interacts with Chinese netizens on weibo, a Twitter-like service.
The 91-year-old held a live weibo chat on Thursday with netizens after creating his page on the website.
"Shalom, my Chinese friends," Mr Peres said in his first post.
At least 200 world leaders, including British Prime Minister David Cameron, have accounts on weibo, the Beijing Times reports.
More than 12 million people watched the 30-minute-long web-chat, which included discussions on the situation in the Middle East and Sino-Israeli ties, reports say.
Li Weijian, a professor at Shanghai Institute for International Studies, tells the Global Times that Mr Peres "is using public diplomatic channels to win the Chinese people as he knows that they have a good impression of Israel".
"Weibo has now become the 'national tea house' of the Chinese, and many foreign leaders are trying to turn this 'huge tea house' into a 'lecture hall' where they could elaborate on their foreign policies, promote the image of their countries or even to show off their charm," Hong Kong-based pro-Beijing Ta Kung Pao daily says.
An article in the Beijing Times comments that "weibo diplomacy" has become an important platform for world leaders to "gain mutual understanding and trust".
However, it adds that social media diplomacy only complements traditional ways of building foreign relations and one should not overlook the reality of bilateral relations.
"It is not difficult to imagine the reactions of Chinese netizens, or the outcome, if Japan's PM Shinzo Abe or Philippines President Benigno Aquino were to set up a weibo account," it quips.
Meanwhile, papers analysed the idea of "Asia integration" after Premier Li Keqiang urged Asian countries "to build a community of shared interests, common destiny and shared responsibilities" in his speech at the opening ceremony of the Boao Forum for Asia on Thursday.
Held annually in the coastal town of China's southern-most island province of Hainan, the four-day forum aims to promote regional economic integration.
Agreeing to the concept, the Beijing News says Mr Li's call is timely and it "suits the need of the current situation".
However, it criticises "the external big power" for interfering in Asian affairs and using its "hegemonic hands" to cause tensions in the region.
"The fate of Asia has now returned to our own hands. The big power outside of the region could see this as a challenge, but the exterior forces will find it hard to stop the widespread rise of Asian countries and the trend of mutual development," says the daily.
A Xinhua News Agency commentary says China has contributed to the peace and stability in the region as a "responsible big nation".
"There are territorial disputes between China and some of its neighbours, but China has insisted on using dialogues to solve the issues. And when met with irrational behaviour of some countries, it has retained self-control… Every country in the region should share their responsibility to maintain peace and stability," it urges.
Cross-strait ties
Elsewhere, papers continue to comment on a controversial cross-straits trade agreement as students in Taiwan ended their three-week long protest on Thursday.
The students, who had been occupying Taiwan's parliament since the middle of March, ended their protest after after Speaker Wang Jin-pyng told them he would not preside over any debate on the bill.
The Beijing Daily describes the movement as a "farce" and points out that the protests have "cast a dark shadow" over China-Taiwan ties
"The mainland has opened more sectors to Taiwan, which is likely to bring more opportunities for the Taiwanese economy… but some people in Taiwan decided to isolate themselves... Such narrow views will undoubtedly hurt Taiwan's economic development," it warns.
BBC Monitoring reports and analyses news from TV, radio, web and print media around the world. For more reports from BBC Monitoring, click here. You can follow BBC Monitoring on Twitter and Facebook.