China media back Xi's anti-terror efforts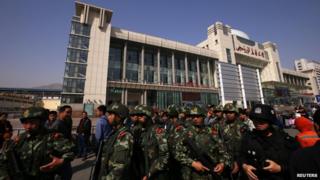 Papers urge authorities to fight terrorism with a "destructive approach" in the wake of a deadly blast at a railway station in Xinjiang.
The explosion took place on Wednesday as President Xi Jinping completed a tour of the region.
Three people were killed and 79 injured when attackers used knives and detonated explosives at Urumqi's south railway station, officials said.
The police have identified Sedirdin Sawut, a 39-year old man from southern Xinjiang, as one of the two suspects killed in the attack, Xinhua News Agency reports.
The far western province has seen a series of violent attacks in the past year. Beijing often blames such violence on separatists from the Muslim Uighur minority of the region.
"The battle to combat violence and terrorism will not be allowed to have even a moment of slackness," President Xi said after the incident.
Papers condemn the attack and fully support Mr Xi's "destructive approach" to fight the "terrorists".
The Liberation Army Daily reports that army and police officials have pledged their support for Mr Xi's anti-terror effort.
"All the army officials said that they would bear in mind the instructions of Chairman Xi to take on the sacred responsibility endowed by the party and the people to ensure stability in Xinjiang society," it says.
"We need to insist on the fight against terrorists. Fight them every time they appear, give these violent terror forces a destructive blow," says an article on the Xinjiang Daily.
The paper adds that "this bloody incident serves as a warning to us that forces ready to destroy China within and outside our boundary are still not dead".
"This latest incident once again reminds us that we need to have zero tolerance against terrorists' provocations… We need to take strike-first actions to minimise the harm they cause," says the Beijing Times.
Economic reforms
Meanwhile, Premier Li Keqiang has reiterated his objections to using short-term stimulus policies to boost economic growth.
In his article published in the Qiushi Journal, Mr Li stresses that the government will concentrate on deeper economic reforms instead of short-term goals.
"Although we faced many complex issues at home and abroad and were under huge economic pressure last year, we avoided a hard landing and maintained stable economic growth," he writes.
"This achievement was largely because of reforms... If we had used short-term stimulus measures last year, they would have brought future pain," he adds, further detailing his plans to push for financial and tax reforms.
Supporting Mr Li's views, a commentary in the Beijing Times agrees that short-term plans are not good for the economy.
"We can gain the sustainable power to revitalise the market only when we insist on deepening reforms," it says.
BBC Monitoring reports and analyses news from TV, radio, web and print media around the world. For more reports from BBC Monitoring, click here. You can follow BBC Monitoring on Twitter and Facebook.