China media: Crisis in eastern Ukraine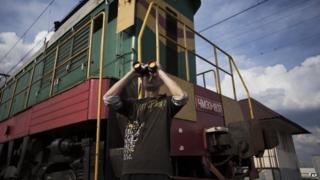 Media and experts in China discuss Russia's next move as Ukrainian troops step up "anti-terrorist operations" in the eastern part of the country.
"Sending troops there is not the top option for Russia, but if the situation in eastern Ukraine worsens, it might consider doing so. However, Russia will avoid a large-scale conflict," Li Shuyin, military expert with the People's Liberation Army Academy of Military Sciences, says.
"If eastern Ukraine gains independence, Moscow will be in direct confrontation with the West... Nobody will benefit from the disintegration of Ukraine," he tells the Liberation Army Daily.
Echoing similar sentiments, Feng Yujun, expert on Russian affairs at the China Institutes of Contemporary International Relations, agrees that Mr Putin will not invade Ukraine under "rational circumstances".
"Moscow's relationship with the West and its international image will be greatly affected if it sends troops to Ukraine. However, Russia may not do that because it has other ways of influencing the situation, including making use of pro-Moscow militants, extremists as well as civilians in Ukraine," he tells the Shenzhen Satellite TV.
An article in the Beijing Times describes the US as "an onlooker" and criticises it for "provocations".
"Because of Ukraine's proximity to Russia and the EU, it will be a massive disaster for both if the crisis escalates and turns into a civil war. However, the US, which is like an onlooker, will not be much affected," it says.
"Moscow has been driven to the corner and it will go all out in the fight. In addition, Ukraine's conflicting sectors are still enmeshed in their heated and irrational political struggle. If Washington instigates further provocations and watches the troubles from far, we might not see positive results in the next round of [peace] talks," it says.
Japan ties
Meanwhile, media discuss China-Japan relations as Zhang Dejiang, a top ranked party official, met a delegation of Japanese lawmakers on Monday.
The meeting comes amid strained relations between Beijing and Tokyo over geopolitical and historical tensions.
According to local media reports, Mr Zhang's meeting with Masahiko Komura, who is leading the nine-member Japanese delegation, was the highest contact between the leaders of the two countries in recent months.
Mr Zhang urged Japan "to take a correct view of history and reality" while Mr Komura, vice president of Japan's ruling Liberal Democratic Party (LDP), said he would like "to make efforts to bring ties back to a strategically and mutually beneficial level", according to a report in the Xinhua news agency.
Zhou Yongsheng, a professor of Japanese studies at China Foreign Affairs University, describes the reception given to Mr Komura as "high profile".
"This shows that China is willing to amend ties with Japan," he tells the Shenzhen Satellite TV.
"China understands that it is still a developing country and it needs a conducive environment for its growth. That is why Beijing is sincerely hoping for a stable bilateral relationship with Tokyo," Jin Canrong, Professor of International Studies at Renmin University of China, tells the TV network.
Wang Ping, a Japanese studies researcher at the Chinese Academy of Social Sciences, notes that there is "growing opposition against Japanese PM Shinzo Abe's right-wing stance" and "increasing communication with China would improve his diplomatic image at home".
"Mr Abe has recently softened his rhetoric, but the opposition forces are not strong or unified enough to continue influencing him," the China Daily quotes her as saying.
BBC Monitoring reports and analyses news from TV, radio, web and print media around the world. For more reports from BBC Monitoring, click here. You can follow BBC Monitoring on Twitter and Facebook.