China knife attack: Suspect 'acted alone'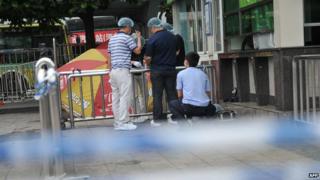 Local authorities in China's Guangzhou believe Tuesday's attack at a railway station was carried out by a lone suspect, after initial investigations.
The city's Public Security Bureau said police shot the suspect outside the station and sent him to hospital.
Police have not yet identified the man, nor said whether the attack was connected to similar recent incidents in Urumqi and Kunming.
The man did not have an identity card, said state media.
State news agency Xinhua reported that a total of six people - three men and three women - were sent to the hospital, with various degrees of injuries.
Both the suspect and the victims were now out of danger, it said.
Guangzhou authorities added that none of the victims were foreign tourists.
Conflicting reports
Xinhua said police were patrolling the plaza at 11.22 when they spotted people "scattering in all directions" as a man wielding a knife slashed at passers-by.
He was shot when he failed to heed warning shots, the agency said.
Local media have carried conflicting accounts, citing eyewitnesses, of the number of people responsible for the attack, with some outlets reporting two or four attackers.
The Guangzhou incident is the third attack on a public transport hub in China in three months.
It comes a week after an attack at a station in Urumqi, in the western region in Xinjiang. Another attack at Kunming station in March killed 29 people.
Chinese authorities have blamed the two incidents on separatists from the Uighur minority group, which lives in Xinjiang.
But China has also seen random knife attacks on the public that did not appear to be politically motivated.
Last year a man killed his sister and mother-in-law in Shanghai over a money dispute. He also slashed several children outside a school.
In 2011 an employee at a childcare centre hurt eight children, while the previous year saw a rash of knife attacks at schools.