China media: Territorial tensions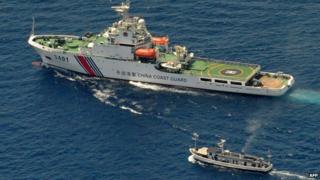 Media urge Beijing to take "strong actions" against the Philippines and Vietnam amid escalating tensions in the South China Sea.
The Philippines on Wednesday detained 11 Chinese fishermen after seizing their boat in disputed waters. China has demanded their release.
The Philippines, Brunei, Malaysia, Vietnam and Taiwan all have overlapping claims with China in the South China Sea.
Wang Xiaopeng, a researcher with the Chinese Academy of Social Sciences, notes that the incident took place after US President Barack Obama visited the Philippines last month.
He adds that Manila seems to be "testing the US through such provocation".
"Some US analysts have put it clearly that Washington will not take sides on the South China Sea issue and it will not fight for the Philippines over territorial disputes. It seems Manila is trying to find out what is the real position of the US," the Beijing Times quotes him as saying.
Echoing similar sentiments, Wu Shicun, president of the National Institute for South China Sea Studies, tells the Global Times that "Manila seems buoyed in taking on Beijing" after it signed a defence co-operation deal with Washington.
Washington and Manila signed a 10-year military pact last month which would allow a bigger US military presence in the country.
Huang Shengyou, an expert on maritime issues, urges China to take a "more severe measure against the Philippines for its provocations".
"No matter how strong the support Manila is getting, Beijing has the ability to fight back… If the Philippines does not release the crew soon, China should retaliate and teach it a lesson," he tells the Global Times' Chinese edition.
Meanwhile, the collision of ships from Vietnam and China in disputed waters is getting limited coverage in China's media outlets.
The vessels collided as the Vietnamese tried to prevent China from setting up an oil rig.
In contrast to the boat seizure by the Philippine authorities, coverage of the collision has been less prominent with fewer comments from experts and papers.
"Till now, we only get to hear the Vietnamese side of the story and not from the Chinese," says a news anchor on Yunnan Satellite TV.
Song Zhongping, a military affairs analyst, tells the TV network that "this is a serious provocation from Vietnam to challenge China's sovereignty rights".
"There is a possibility that conflicts may take place if Vietnam continues with its provocative acts like sending warships into China's territorial waters," he warns.
An article in the Zhonghua Net says "both Vietnam and the Philippines are deliberately forcing China to respond".
Anti-graft campaign
And finally, papers welcome a new deal that will allow countries like China to get more information from Switzerland on foreign bank accounts held by their citizens.
Switzerland on Tuesday joined the growing ranks of countries agreeing to share tax information in a major breakthrough against bank secrecy, Reuters news agency reports.
The country signed the Declaration on Automatic Exchange of Information in Tax Matters in Paris during an annual Organisation for Economic Co-operation and Development (OECD) meeting on Tuesday.
Financial experts interviewed by the China Daily say foreign banks that provide protection to clients are "most favoured" by corrupt Chinese officials who deposit their "ill-gotten gains" with them.
Experts believe the policy change by the Swiss authorities will benefit China's anti-graft campaign.
"It will become much easier for the Chinese authorities to collect information on overseas accounts relating to corrupt officials," Shen Minggao, head of China research at Citibank, tells the daily.
A commentary in the Beijing News adds that the new regulations have made it more difficult for people to evade taxes.
It suggests that the authorities should now "widen their efforts to inspect the overseas assets" of wealthy Chinese and corrupt officials.
BBC Monitoring reports and analyses news from TV, radio, web and print media around the world. For more reports from BBC Monitoring, click here. You can follow BBC Monitoring on Twitter and Facebook.