China media: Immigration laws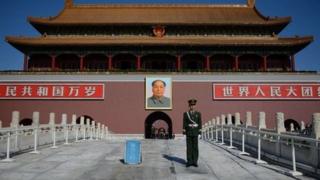 Media welcome China's plan to relax its immigration laws allowing foreigners to apply for longer residency rights.
According to local media reports, the Organizational Department of the Central Committee of the Communist Party of China announced on Monday that it was planning to ease regulations on granting permanent residency to foreigners.
China's green-card policy was launched in 2004 with the aim of attracting foreign experts and people with huge investments by giving them permanent residency.
Some of the the current requirements state that foreigners have to be "elite talents" or should have invested at least $500,000 (£298,000) in China to be eligible for permanent residency, the Xinhua News agency says.
The Beijing News notes that China only gives out 248 green cards each year, which is "very small" when compared with 27 million foreigners who enter the country every year.
But China is now planning to change its 2004 green-card policy to attract foreign talent. However, authorities have not given any details of the expected changes in the immigration law.
The China Daily observes that the country is facing a talent "deficit" as "more experts are leaving than entering, prompting the relaxation of the policy".
Wang Zhenyao, the director of Centre for China and Globalization, suggests that the new plan should "cover a larger group of foreigners who have good education and stable jobs".
"Also, the government should use the green card to attract overseas Chinese back," he tells the daily.
An article in the Beijing News quips that with the current stringent requirement, "the world's wealthiest people such as Bill Gates may not even meet the criteria because he does not have individual direct investment in China".
Supporting the proposed change to attract talent, the paper adds that as China progresses, the country will not only need foreign investment but also "foreign brains".
Cult organisations
Police arrested five members of a cult on Monday for allegedly murdering a woman in east China's Shandong province.
According to media reports, the suspects are members of a cult group named "Quannengshen" or "The Almighty God".
They beat the victim to death after failing to recruit her at a fast-food restaurant in the city of Zhaoyuan, reports say.
The Southern Metropolis notes that members of the organisation are mostly elderly people from villages.
A commentary in the Global Times Chinese edition calls to suppress the "survival space" of "underground churches" and "cult organisations" while strengthening grass root governance in rural areas.
The Legal Daily adds that it is a "crime for cult members to force convert others to their religion".
"Fighting these cult organisations is a way to protect freedom of religion, the basic rights of the citizens and to maintain social stability," it notes.
BBC Monitoring reports and analyses news from TV, radio, web and print media around the world. For more reports from BBC Monitoring, click here. You can follow BBC Monitoring on Twitter and Facebook.