Chinese soldiers killed in 'accidental blast' in Hunan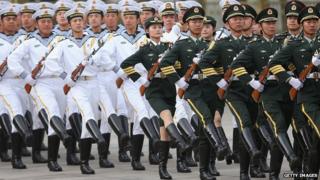 A group of Chinese soldiers who were stacking ammunition in a storage area have been killed in an accidental explosion, according to state media.
The Xinhua news agency reported that 17 military personnel were killed in the blast.
The incident took place at a military installation in Hengyang, in Hunan province.
Investigators say they are trying to find out the cause of the blast, and gave no theories as to its cause.
China has the world's largest military with 2.3 million members.