Media urge China to 'not interfere' in Iraq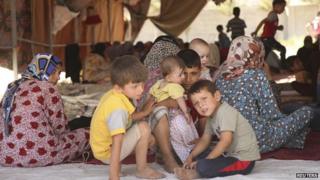 Media advise China to not interfere in Iraq, while criticising the US for "creating a mess" in the Middle East.
President Barack Obama says the US will send 300 military advisers to Iraq to help fight Islamist-led insurgents.
Sunni radical group Isis has taken control of several Iraqi cities and towns in the past few days, report say.
Mr Obama said the US was prepared for "targeted and precise military action, if and when" required, but added that US troops would not fight in Iraq.
Some media outlets have noted discussion in the US media suggesting that China should shoulder more responsibility because it has economic interests in Iraq.
According to local reports, China's state-owned oil firms run several projects in the southern regions of Iraq.
In response to the call in the US media, the Global Times' Chinese edition points out that China "does not possess the capability to handle a large-scale war mission that is a great distance away".
"The US is instigating China to interfere in Iraq because it hopes to pass the mess to Beijing and to slow down the development of China," it says.
It adds that China has to deal with territorial disputes in Asia and it does not have the "energy to care about Iraq."
Echoing similar sentiments, an article in the China Net says Washington's Middle East strategy is a "complete failure" which has led to the current turmoil in Iraq.
It warns that a repeat of such failure was possible in Asia because of the Obama administration's pivot to Asia strategy.
"Washington's strategy in Iraq is the cause for the chaos in the Middle East. Similarly, its policy regarding the South China Sea and East Sea is also creating a problematic situation," it says.
'Saving dogs'
Elsewhere, media discuss China's fight against corruption as a government report suggests that more than 6,000 officials have been punished for "misbehaviour".
China's anti-corruption watchdog had started investigating these government officials in October last year.
The Beijing Times reports that the "buying and selling of official positions" as well as "promoting corrupt officials" are one of the most common problems that the anti-corruption watchdog found.
Experts tell the paper that the "nomination system of officials" needs to be reformed to root out the problem.
Echoing similar views, Zhu Lijia, a professor at China Academy of Governance, tells the China Youth Daily that the reform is "far from complete" and a "mature legislature and system is required to manage anti-graft effort to prevent similar problems from taking place".
And finally, restaurants selling dog meat in south-western China are reporting a drop in their business after strong protests from animal activists.
According to the Sina News website, dog-meat business in Yulin, in Guangxi Zhuang Autonomous region, suffered a setback after activists poured into the city to save the dogs from being consumed in a festival on Saturday.
Buddhist monks and dog lovers also performed religious rites in a major retail dog meat market, the report adds.
At least 10,000 dogs are reportedly eaten during this annual festival.
BBC Monitoring reports and analyses news from TV, radio, web and print media around the world. For more reports from BBC Monitoring, click here. You can follow BBC Monitoring on Twitter and Facebook.